Czech President pays respects to victims of Nanjing Massacre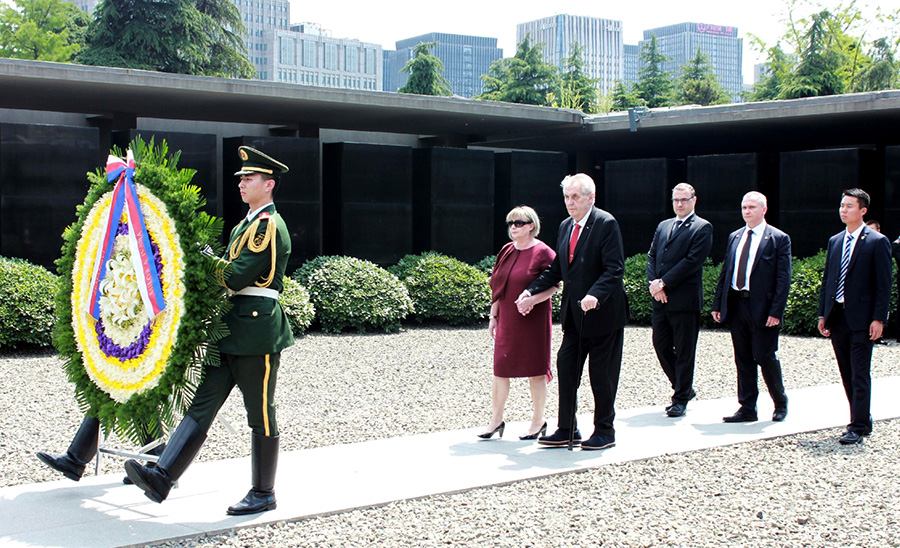 President Milos Zeman of the Czech Republic visits the Memorial Hall of the Victims in Nanjing Massacre by Japanese Invaders on Tuesday in Nanjing, Jiangsu province, paying tribute and bowing to the victims. Thousands of victims were buried near the memorial. CHINA DAILY
NANJING - Czech President Milos Zeman Tuesday visited the Memorial Hall for the Victims of the Nanjing Massacre in East China's Jiangsu province.
Zeman became the first incumbent foreign president, and second foreign head of state following Queen of Denmark Margrethe II in 2014, to visit the hall, which commemorates the more than 300,000 Chinese lives taken by Japanese invaders when they occupied the city from Dec 13, 1937.
Zeman was invited by Chinese President Xi Jinping to attend the Belt and Road Forum for International Cooperation in Beijing.
Related story: Czech president, first lady pay respects at Nanjing memorial