Efforts needed for sustainable projects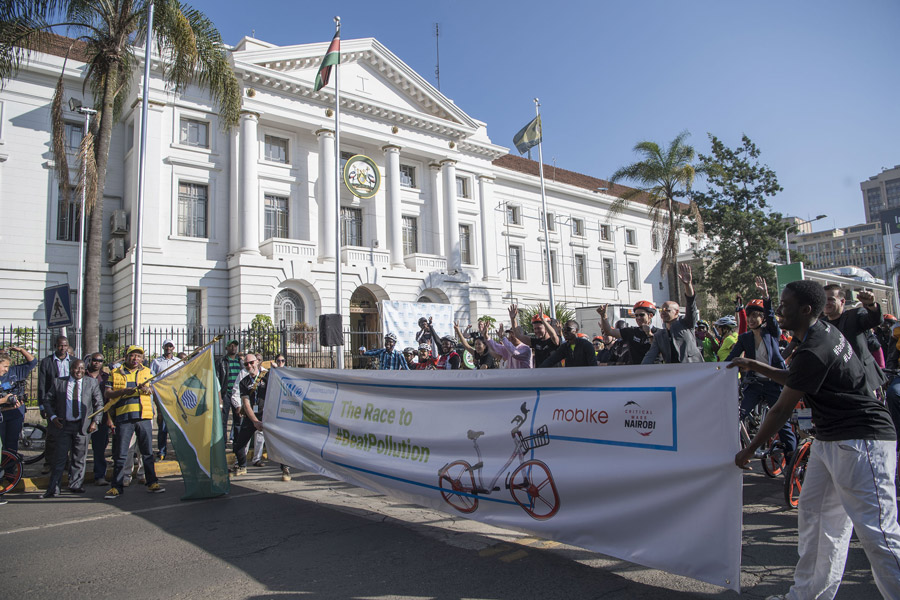 For the Third United Nations Environmental Assembly in Nairobi, Kenya, people show their dedication to nature in a ride organized by Chinese bike-sharing company Mobike and the UN on Dec 3. [Photo/Xinhua]
During the forum, experts discussed challenges and opportunities emerging from the implementation of the Belt and Road Initiative projects and how they can be developed with minimal impact on the environment.
"The BRI involves transport and energy infrastructure projects that are extremely big with implementation periods stretching to over five years, involving multiple countries and players. This means application of different policies and regulations. These are real challenges," said Gianluca Ghiara, national vice-chairman of Environment Working Group at the European Union Chamber of Commerce in China.
He believes that countries can draw lessons from Chinese firms who are already developing solutions for challenges back home. Moreover, this also calls for close consultations with organizations such as the UN and the European Union among others.
China is strongly committed to the green concept and this can be seen by its policies and serious implementation, said Zhou Guomei, a senior official with the Ministry of Environmental Protection in China.
"A lot of investments are overseas and not in China. We need to have more policy mechanisms to strengthen the greening side of these investments. And already there are several successful stories on the investment overseas," she said.
One such organization that was also participating in Sustainable Innovation Expo, which was later launched by the UNEP executive director, was Mobike, founded by Beijing Mobike Technology Co.
"These innovations goes a long way to show that the private sector is committed to bringing solutions that are beneficial to the people while at the same time conserving the environment," Solheim said.