How foreign media review China's achievements in the past five years? (IV)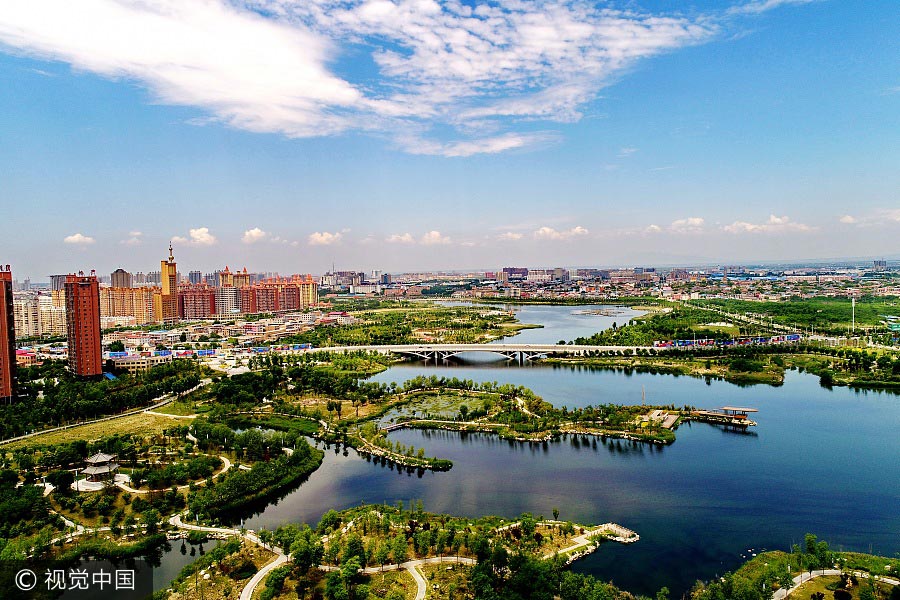 The bright blue sky in Yuncheng city, Shanxi province, on May 19, 2017. [Photo/VCG]
Environmental governance
Shanxi has already promised to put its municipal governments under more pressure to meet pollution targets, saying city mayors and top Communist Party officials will be held fully accountable if air quality in the province declines this winter.
The province is one of six northern regions included in an intensive campaign to reduce smog this winter.
In a groundbreaking policy document published in 2013, China pledged to reduce PM2.5 by more than 25 percent in the heavily polluted region of Beijing-Hebei-Tianjin.
It also vowed to bring PM2.5 concentrations down to 60 micrograms per cubic meter in the Chinese capital.
-- Reuters: China's top coal province pledges 40 percent smog cut over winter (Oct 12, 2017)
To address the issue, China's sponge city initiative has an ambitious goal: by 2020, 80 percent of urban areas should absorb and re-use at least 70 percent of rainwater.
Launched in 2015 in 16 cities, the initiative seeks to reduce the intensity of rainwater runoff by enhancing and distributing absorption capacities more evenly across targeted areas. The resulting groundwater replenishment increases availability of water for various uses. This approach not only reduces flooding but also enhances water supply security.
The initiative is similar to the North American concept of low-impact development, which according to the United States Environmental Protection Agency mimics natural processes in order to protect water quality.
-- CNN: China's 'sponge cities' aim to re-use 70% of rainwater (Sept 18, 2017)