How foreign media review China's achievements in the past five years? (III)
The 19th Communist Party of China National Congress will convene in Beijing on Oct 18. The Congress will review the Party's work over the past five years, discuss and set the future direction for the Party and the nation, as well as elect a new central leadership.
As all eyes are on the upcoming Congress, let's take a look at what international media said about the developments and achievements of China.
Infrastructure development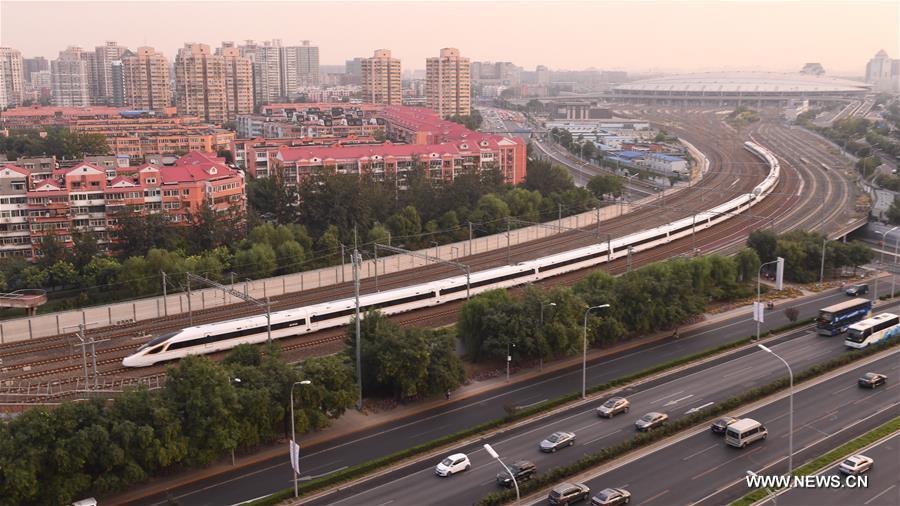 A Fuxing bullet train leaves Beijing South Railway Station on the Beijing-Shanghai high-speed network in Beijing, Sept 21, 2017. China increased the maximum speed of bullet trains on the Beijing-Shanghai route to 350 kilometers per hour, six years after it was reduced to 300 kmh. [Photo/Xinhua]
With the new-generation high-speed bullet train Fuxing (meaning rejuvenation) put into service for key cities last month, travelling time from Tianjin Railway Station to Beijing South Station will be cut from 30 minutes to under 25 minutes.
Fully designed and manufactured in China, the Fuxing trains, which can hit a top speed of 400 km/h, will run at 350 km/h from Thursday - faster than Japan's famous Shinkansen trains at 300 km/h, and France's TGV (Train à Grande Vitesse), the world's fastest so far with operating speeds of 320 km/h.
Fuxing trains will cut travel time from six to four and a half hours for the Beijing-Shanghai line, China's busiest high-speed rail route.
-- The Straits Times: "China's rail ambitions run at full speed" (Sept 19, 2017)
The countries of Europe and Asia are increasingly integrating together economically, logistically and politically via China's Belt and Road Initiative (BRI) and the various other endeavors of the broader New Silk Road, opening the gateway for a paradigm-shifting renaissance of technological innovation across the region. Trans-Eurasian transportation networks are being unified and streamlined, IT infrastructures are being upgraded and fused together, energy capacity is being boosted manyfold, and new types of problems are creating the opportunity for new types of technological solutions.
-- Forbes: "How China's Belt And Road Sparked A Renaissance Of Transportation Innovation" (Sept 13, 2017)