Record-breaking hurricane Irma causing huge devastation: UN agencies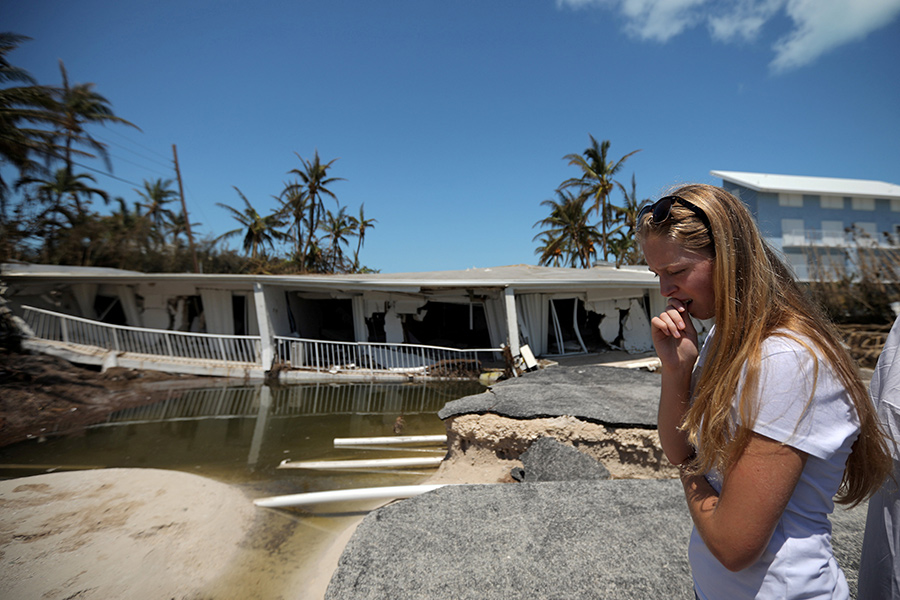 A local resident reacts as she sees the damage on her home after Hurricane Irma struck Florida, in Islamorada Key, US, September 12, 2017. [Photo/Agencies]
GENEVA - Hurricane Irma has generated more cyclone energy than the first eight named storms of this year's Atlantic hurricane season combined, and is expected to cause a huge devastation in low-lying Caribbean islands and in Florida, the United States, according to reports by the World Meteorological Organization (WMO) and the World Health Organization (WHO) on Tuesday.
Though final casualty figures inflicted by hurricane Irma are not immediately known, the death toll has already risen to 12 in the US, according to local authorities on Tuesday.
The WHO also said the tropical storm has claimed 25 lives and left 17,000 people in need of immediate shelter across the affected eastern Caribbean islands, while some 32 million people in the inhabited parts of the Caribbean are exposed to high speed wind zones.
In terms of economic losses, Irma is expected to be one of the most expensive tropical cyclones in history, the WMO predicts, given a number of records that it has refreshed.
Irma and Harvey mark the first time that two category four storms have made landfall in the U.S. in the same year. Irma has generated the most Accumulated Cyclone Energy (ACE) by a tropical cyclone on record in the tropical Atlantic than the first eight named storms of the Atlantic hurricane season combined in 2017.
Irma continued with it maximum wind speed of 300 km/h for 37 hours, the longest any cyclone around the globe has maintained that intensity on record. The previous record was Haiyan which caused devastation in the Philippines in the Northwest Pacific in 24 hours in November 2013. It also lasted three consecutive days as a category-five hurricane, the longest in the satellite era since 1966.
Latest numbers from the WHO suggested that almost six million people in the US are without power, while nearly 200,000 people are staying at more than 600 shelters in Florida and Georgia.
Things are even much worse on low-lying islands in the Caribbean and the Atlantic. In the Turks and Caicos Islands, for instance, preliminary reports said that 80 to 90 percent of households were damaged on South Caicos, 70 percent on Providenciales, and 50 percent on Grand Turk Island, according to the WHO.
Judging from previous studies, the WMO said greenhouse warming will cause the globally averaged intensity of tropical cyclones to shift towards stronger storms, with intensity increases of two to 11 percent by 2100. Studies also project substantial increases in the frequency of the most intense cyclones, and increases of the order of 20 percent in the precipitation rate within 100 km of the storm center.