Nice shrugs off terror fears to revel in Carnival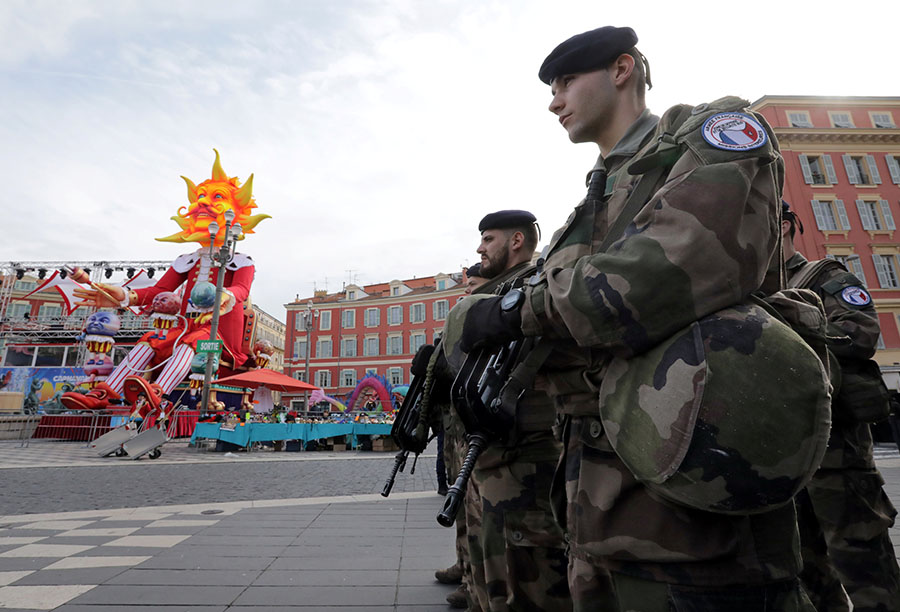 French soldiers stand guard before the start of the 133rd Nice carnival, the first major event since the city was attacked during Bastille Day celebrations last year, in Nice, France, Feb 11, 2017. [Photo/Agencies]
NICE, France - Behind barricades, the city of Nice was holding its Carnival, keeping up tradition but taking precautions seven months after the Bastille Day truck attack that killed 86.
Floats in the Carnival's 133rd edition that kicked off on Saturday were led by the King of Energy, this year's theme, and followed notably by a huge Donald Trump with hair dryers trained on his crown of blond hair. France 24 TV quotes a tourism official saying the image was decided before Trump was elected U.S. president.
French political leaders need not feel shunned. Presidential candidates are featured.
Deputy Mayor Rudy Salles, on BFM-TV, said security was "like in an airport" with 36 scanners, pat downs, police and soldiers.
A Tunisian plowed his truck through July 14 revelers in an Islamic State attack.