Home / World / Asia-Pacific
New Zealanders race to save whales after 400 stranded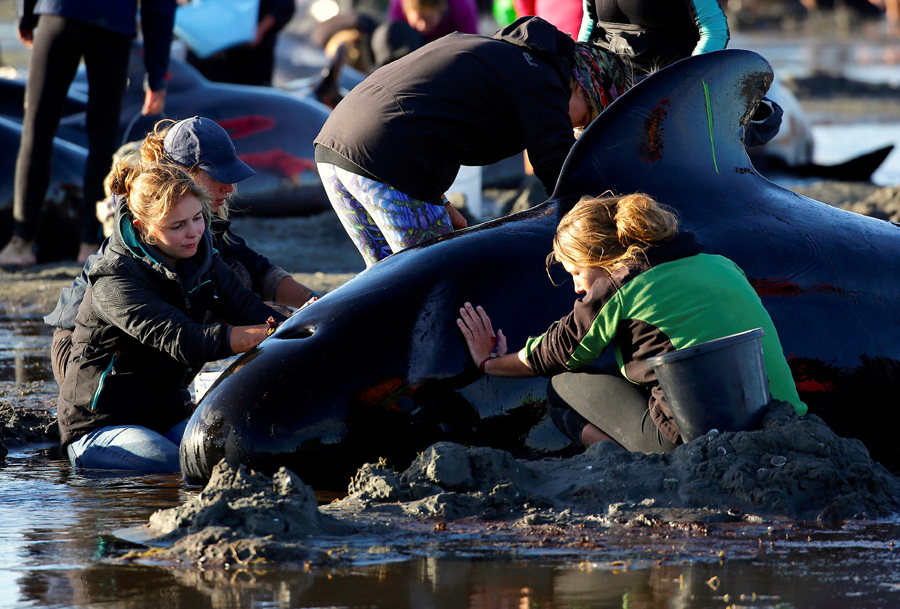 Volunteers attend to some of the hundreds of stranded pilot whales still alive after one of the country's largest recorded mass whale strandings, in Golden Bay, at the top of New Zealand's South Island, February 10, 2017. [Photo/Agencies]
Inwood said whale strandings occur most years at Farewell Spit, but the scale of this event came as a shock.
Sometimes described as a whale trap, the spit's long coastline and gently sloping beaches seem to make it difficult for whales to navigate away from once they get close.
The beach is remote. Getting there from the nearest provincial airport in Nelson takes a three-hour drive followed by a 15-minute hike.
Conservation workers said many of the surviving whales were likely to be in bad shape given the number of deaths, and that their conditions would likely deteriorate the longer they remained stranded.
New Zealand has one of the highest rates of whale strandings in the world, and Friday's event is the nation's third-biggest recorded stranding.
The largest was in 1918, when about 1,000 pilot whales came ashore on the Chatham Islands. In 1985 about 450 whales stranded in Auckland.
"It was just heartbreaking," Morrison said. "Utterly heartbreaking."