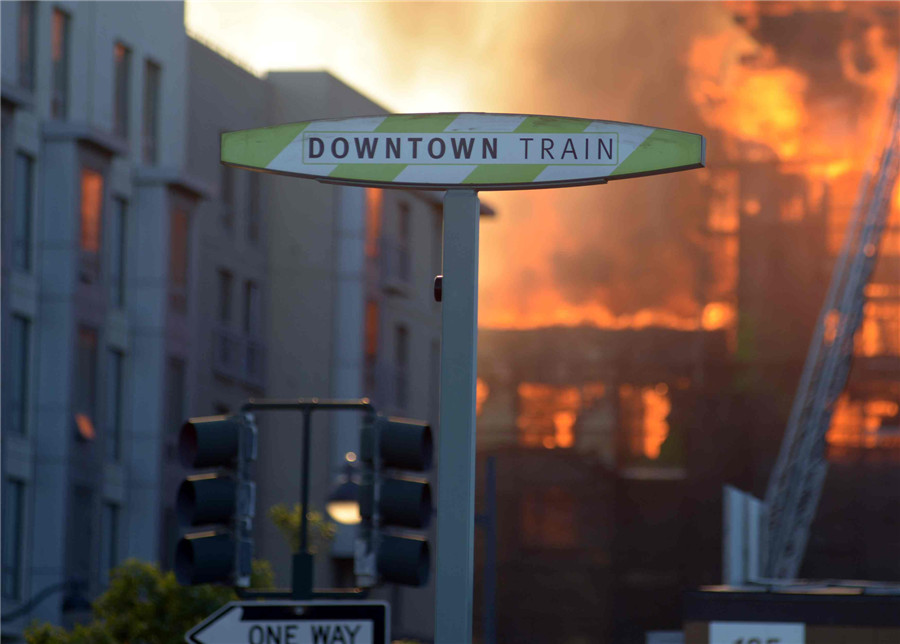 Firefighters battle flames at a construction site in the China Basin area of San Francisco, March 11 2014. [Photo/Agencies]
SAN FRANCISCO - A major fire burning Tuesday in San Francisco's Mission Bay neighborhood sent an enormous plume of black smoke high into the sky.
One firefighter suffered second-degree burns to the face, Fire Department spokeswoman Mindy Talmadge said.
The five-alarm fire that began around 5 p.m. ravaged a high-rise building under construction and led a wall of the structure to collapse about an hour later. As daylight waned, the flames calmed and the smoke turned from black to white.
About 150 firefighters responded to the scene, and teams were expected to remain there throughout the night.
The cause of the blaze was not immediately clear.
Fire-suppression systems had not yet been installed in the building, making the battle more difficult, Talmadge said.
Fire Chief Joanne Hayes-White told The San Francisco Chronicle that firefighters had kept the blaze from spreading to nearby structures.
The burning building, owned by BRE Properties, was intended to be a 360-unit residential one, KTVU-TV reported. It was being built by Suffolk Construction, according to the Chronicle.
It was not immediately clear how many residents had been displaced.
The Mission Bay neighborhood is a onetime industrial area that lies along the San Francisco Bay. It is home to a University of California, San Francisco medical campus and is close to AT&T Park, the San Francisco Giants stadium.