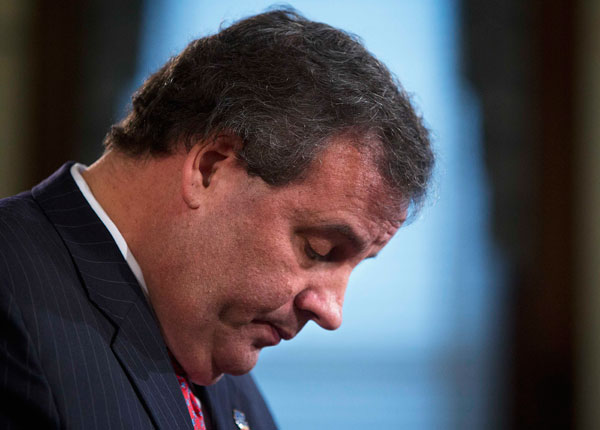 New Jersey Governor Chris Christie reacts during a news conference in Trenton Jan 9, 2014. Christie on Thursday fired a top aide at the center of a brewing scandal that public officials orchestrated a massive traffic snarl on the busy George Washington Bridge to settle a political score. Christie told a news conference he was stunned and heartbroken by revelations that his staff was behind the traffic jam designed to punish a local mayor who declined to endorse Christie's re-election bid. [Photo/Agencies]
US investigators are looking into whether embattled New Jersey Governor Chris Christie misused about $2 million in Superstorm Sandy relief funds for an ad campaign that put him in the spotlight in an election year, officials said on Monday.
Already enmeshed in a scandal over snarled traffic at the George Washington Bridge, Christie, a likely 2016 Republican presidential contender, is now being audited by the Inspector General at the US Department of Housing and Urban Development, an agency spokesman said.
The probe began after HUD received a request from Congressman Frank Pallone Jr., a New Jersey Democrat, the spokesman said.
The inspector is focusing on a federally financed $25 million marketing campaign intended to draw visitors back to the Jersey Shore as the area struggled to rebuild from the damage unleashed by Sandy in late 2012. The campaign included a television commercial featuring Christie and his family that cost $2 million more than a competing bid that would not have featured them.
"It is inappropriate for taxpayer-funded dollars that are critical to our state's recovery from this natural disaster to fund commercials that could potentially benefit a political campaign," Pallone said in an August 8, 2013 letter requesting the investigation.
In a statement responding to the probe, Christie's office noted that HUD Secretary Shaun Donovan had lauded the ad campaign and suggested that Pallone's request for an investigation was motivated by political considerations.
"We're confident that any review will show that the ads were a key part in helping New Jersey get back on its feet after being struck by the worst storm in state history," said Christie spokesman Colin Reed.
Sandy devastated New York, New Jersey and other parts of the East Coast on October 29, 2012. The storm killed at least 159 people and damaged or destroyed more than 650,000 homes, many in Pallone's district on the Jersey Shore, where the storm made landfall.