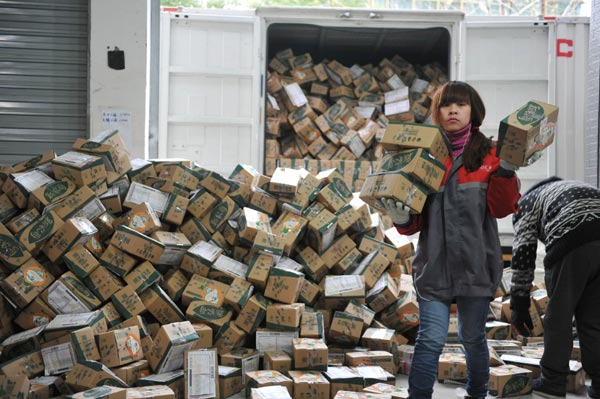 Courier company workers at a processing facility in Lin'an, Zhejiang province sort items ordered online. As more people gain access to the Internet via smartphones, small cities can become strong drivers of online shopping in China. Hu Jianhuan / For China Daily
With the robust growth of e-commerce in China, average per capita online transactions - shopping, money transfers and bill payments - exceeded 10,000 yuan ($1,640) in 2013, according to figures released on Monday by Alipay, China's largest e-payments company.
Alipay is the e-payment arm of Alibaba Group Holding Ltd.
The coastal province of Guangdong led the list, with online expenditures accounting for about 16 percent of the national total. Next came Zhejiang province, Beijing, Shanghai and Jiangsu province, in that order.
Online spending in inland regions in western China took off last year, with growth rates outpacing those of their eastern counterparts.
And while residents of first-tier cities were big spenders, the influence of small cities or even counties can no longer be ignored. Alipay found that residents of Yiwu, Zhejiang (home to a major wholesale market for appliances, accessories and toys) spent an average of 40,000 yuan in 2013, more than twice the amount for Beijing.
On Alipay's top 100 list of small cities and counties, 36 out of the 100 localities were in Zhejiang.
Jiangsu province ranked second, with 27 small cities, followed by Fujian with 13.
Residents of the top 100 small cities and counties shopped online eight times on average last year. Those who spent more than 1 million yuan in 2013 mostly came from Yiwu and Cangnan county in Zhejiang, as well as Changshu, a city in Jiangsu province.
Mao Ajing, an analyst from Analysys International, said that the e-commerce market in first- and second-tier cities is fiercely competitive.
"Many e-commerce companies made moves in 2013 to expand to third- and fourth-tier cities," Mao said. Incomes are less in lower-tier cities, but so are living costs, meaning higher disposable incomes.
Residents of smaller cities "may even have more money to splurge online", said Mao.
With more people getting access to the Internet through their smartphones, lower-tier cities and underdeveloped regions can emerge as strong drivers of online shopping in China, said analysts.
About 38 percent of Alipay users in Yushu county in northwestern China's Qinghai province made online payments via smartphones, the highest rate of any region in 2013.
Most of the top 10 cities for mobile payments were in remote areas in Qinghai province, the Tibet autonomous region and the Inner Mongolia autonomous region.
Despite the high penetration rates of mobile payments in western China, Shanghai, Beijing and Guangzhou were still the top three cities in terms of total mobile online payments.
Many also seem to prefer shopping to sleeping. Alipay said about 37 million people made online payments via mobile devices between midnight and 5 am.