CANBERRA -- The Aurora Australis, an Australian icebreaker, is traveling slowly due to the poor weather and has so far come within 11 nautical miles of the trapped Russian vessel in Antarctic sea ice for the past six days, the Australian Maritime Safety Authority (AMSA) said on Monday.
The Russian ship, MV Akademik Shokalskiy, built in Finland in 1982, is carrying a team of Australian scientists and other passengers to conduct scientific experiments. It is scheduled to return to New Zealand in January 2014. It sent a distress call on Christmas Day after becoming trapped in heavy sea ice in Antarctic sea.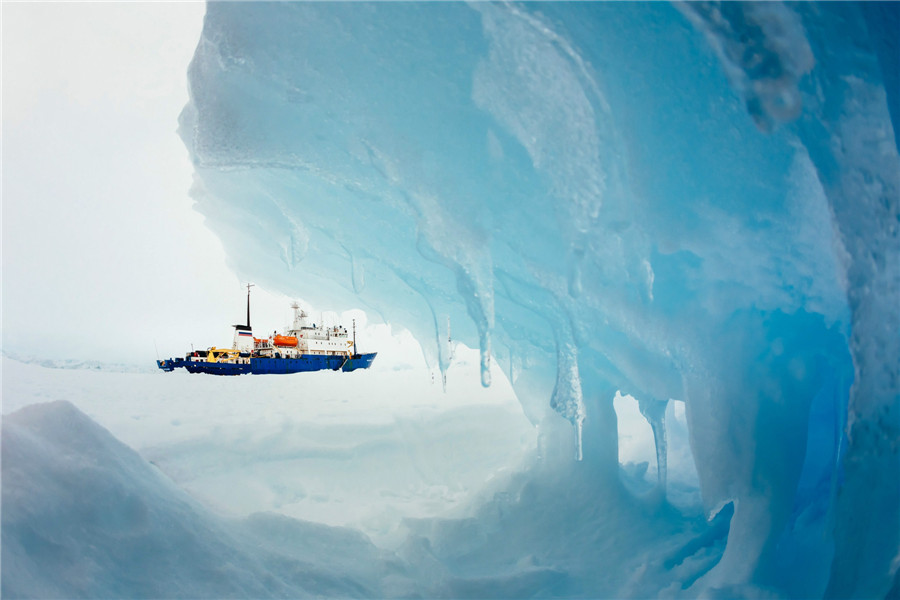 The MV Akademik Shokalskiy is pictured stranded in ice in Antarctica, December 29, 2013. An Antarctic blizzard has halted an Australian icebreaker's bid to reach a Russian ship trapped for a week with 74 people onboard, rescuers said on Monday. The Aurora Australis had to return to open waters about 18 nautical miles from the stranded Akademik Shokalskiy because of poor visibility, according to the Australian Maritime Safety Authority (AMSA), which is co-ordinating the rescue. [Photo/Agencies]
According to the AMSA, the icebreaker arrived near the Antarctic coast at 2 a.m. (AEDT) on Monday in a final bid to break through the pack ice surrounding the MV Akademik Shokalskiy, located about 1,500 nautical miles south of Hobart.
But so far poor weather is hampering rescue efforts. "The area is currently experiencing snow showers, resulting in poor visibility," AMSA spokeswoman Lisa Martin said on Monday morning. "The Aurora Australis is traveling slowly due to the conditions to ensure the safety of all on board."
The Aurora Australis is the last ship in the area that will be able to help. For the past days, two icebreakers, Chinese icebreaker Snow Dragon and French icebreaker Astrolabe, have already given up efforts to push through the thick and dangerous ice floes to free the trapped ship.
The authorities have confirmed that they will ferry the trapped passengers to safety by helicopter if it can't battle through the ice.