Wall St roars back but selling may return
Updated: 2011-08-12 09:35
(Agencies)
| | | | | | | | | | | |
| --- | --- | --- | --- | --- | --- | --- | --- | --- | --- | --- |
|   | | Comments() | | Print | | Mail | | Large Medium  Small | 分享按钮 | 0 |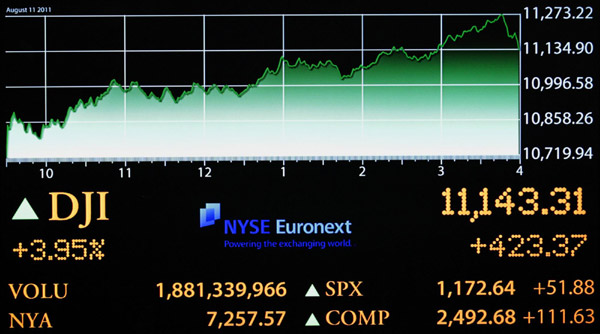 A screen displays the final numbers for the Dow Jones Industrial Average on the floor of the New York Stock Exchange, August 11, 2011. [Photo/Agencies]
NEW YORK - US stocks shot up 4 percent on Thursday as bargain-hungry investors overcame the recent wave of fear that drove selling over the last two weeks.
Thursday's rally marked the second bounce in a yo-yo week. After a sell-off that pushed the S&P 500 down as much as 17 percent since July 22, the market is showing some signs of regaining its footing.
"It's a bungee cord market. We've fallen off of a small bridge, the bungee cord bounced us up, and oscillations will diminish, but we're still bouncing around," said Fred Dickson, chief market strategist at D.A. Davidson & Co., in Lake Oswego, Oregon.
Investors used results from Cisco and a slight dip in weekly US jobless claims as the catalyst to snap up beaten-down stocks. Worries about the spread of the European debt crisis were also somewhat alleviated after news of a meeting between France's Nicolas Sarkozy and Germany's Angela Merkel set for Tuesday.
Financials outpaced other S&P 500 sectors after leading losses in the previous session. But bank borrowing costs were under some pressure overseas.
The CBOE Volatility Index, known as the VIX, shed 9.3 percent, though it remained near levels not seen in over a year. The day's trading volume on the New York Stock Exchange, NYSE Amex and Nasdaq, was 12.99 billion -- well above the year's estimated daily average of 7.8 billion.
The Dow Jones industrial average surged 423.37 points, or 3.95 percent, to 11,143.31. The Standard & Poor's 500 Index shot up 51.88 points, or 4.63 percent, to 1,172.64. The Nasdaq Composite Index jumped 111.63 points, or 4.69 percent, to close at 2,492.68.
"We're seeing a net flow of buy orders from retail investors here, so they're looking for bargains. I have not had anybody call me and say, 'Here's what I own. Tell me what I ought to sell,' and I've seen that in other high-volatility periods," Dickson said.
After the close, Nvidia Corp shares jumped 15.6 percent to $15.50 after the graphics chipmaker gave a quarterly revenue forecast that exceeded analysts' average forecast.
Hot Topics
The European Central Bank (ECB) held a conference call late on Sunday ahead of the market opening, pledging the ECB will step in to buy eurozone bonds with efforts to forestall the euro zone's debt crisis from spreading.