Cameron denies austerity drive caused UK riots
Updated: 2011-08-12 08:59
(Agencies)
| | | | | | | | | | | |
| --- | --- | --- | --- | --- | --- | --- | --- | --- | --- | --- |
|   | | Comments() | | Print | | Mail | | Large Medium  Small | 分享按钮 | 0 |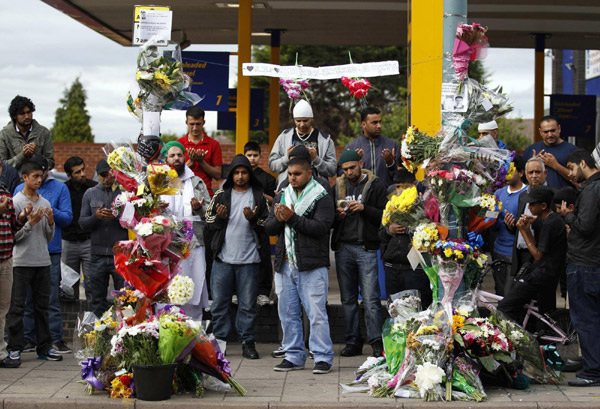 People pray at the scene where three men were killed by a car during the recent rioting in the Winson Green area of Birmingham, central England August 11, 2011. [Photo/Agencies]
LONDON - Prime Minister David Cameron blamed the worst riots in Britain for decades on street gang members and opportunistic looters and denied government austerity measures or poverty caused the violence in London and other major English cities.
Cameron told an emergency session of parliament that police tactics had failed at the start of the rioting. Courts worked through the night to deal with hundreds of mostly young people arrested during the mayhem.
"The fightback has well and truly begun," said the Conservative leader, in power for 15 months.
"As to the lawless minority, the criminals who've taken what they can get, I say this: We will track you down, we will find you, we will charge you, we will punish you," Cameron said.
Police in central England said they had arrested three people, aged 16, 17 and 26, on suspicion of murder after three men protecting property in Birmingham from rioters were hit by a car.    
Community leaders say inequality, cuts to public services by the Conservative-Liberal Democrat coalition government and youth unemployment fed into the violence in London, Birmingham, Manchester and other multi-ethnic cities.
Cameron is under pressure from different quarters to ease his austerity plans, toughen policing and do more for inner-city communities, even as economic malaise grips a nation whose social and racial tensions exploded in four nights of mayhem.
His statement was followed by another emergency address to parliament by the finance minister, George Osborne, in the wake of the euro zone debt crisis.  
Osborne said Britain's urgency in dealing with its budget deficit was an example to the rest of Europe but many Britons fear large job losses, benefit cuts and reduced services in the government's austerity drive.
"This is not about poverty, it's about culture," Cameron said. "A culture that glorifies violence, shows disrespect to authority, and says everything about rights but nothing about responsibilities."
Police have arrested more than 1,200 people across England.
Among those charged were the daughter of a millionaire, a teaching assistant, a charity worker and an 11-year-old boy.
At Westminster magistrates' court, one of the first cases was that of a second-year university law student accused of being part of a gang which ransacked cafes and restaurants in the upmarket area of St John's Wood.
The initial police response was inadequate, Cameron told legislators who had been recalled from their summer break. "There were simply far too few police deployed on to the streets. And the tactics they were using weren't working."    
Defending planned police funding cuts against criticism from opposition Labour leader Ed Miliband, Cameron proposed more police powers, including the right to demand that people remove face coverings if they are suspected of crime.
"I hope that in the debates we have on the causes we don't fall into a tiresome discussion about resources," said Cameron.
"When you have deep moral failures you don't hit them with a wall of money."
Hugh Orde, president of the Association of Chief Police Officers, said this week a 20 percent cut in police funding until 2015, planned by the Conservative-Liberal Democrat coalition, would pose great challenges.
"I do sense, without question, resentment (among police officers) that they are now being portrayed in the routine as corrupt, unprofessional and need sorting out," he told Reuters.
The British leader said he would maintain a higher police presence of 16,000 officers on London streets through the weekend. Normally only 2,500 would be working, and the Metropolitan Police said the increase made it the biggest deployment of officers in peacetime.
The prime minister promised to compensate people whose property was damaged by rioters, even if they were uninsured. The riots will cost insurers more than 200 million pounds ($320 million), the Association of British Insurers estimated.
Hot Topics
The European Central Bank (ECB) held a conference call late on Sunday ahead of the market opening, pledging the ECB will step in to buy eurozone bonds with efforts to forestall the euro zone's debt crisis from spreading.