ALGIERS -- Al-Qaeda claimed responsibility for a double car bomb strike in Algiers on Tuesday that killed dozens of people as rescuers desperately worked through the night to find survivors.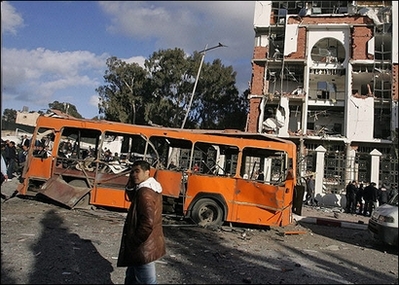 An Algerian man walks past a damaged bus in front of the destroyed Supreme Court building in Algiers December 11, 2007. [Agencies]
Amid a disputed death toll, rescuers pulled six people alive from the debris of one of the bombs which tore through the offices of the UN High Commissioner for Refugees and other UN agencies, Algerian television reported.
The second attack killed and maimed students packed in a bus passing a car as it was detonated outside the country's highest court in central Algiers.
The government said 26 people were killed and 177 injured wounded by the two bombs. Hospital sources gave a toll of 62 dead and about 100 injured.
The United Nations said at least 10 of its staff were killed and an unspecified number were still unaccounted for after the attacks as rescuers, aided by sniffer dogs, tried to locate injured survivors among the debris.
Stunned families gathered nearby anxiously awaiting news of missing relatives.
One woman shouted and slumped toward the ground after hearing her son was among the dead, and authorities quickly led her away.
Al-Qaeda's Branch in the Islamic Maghreb (BAQMI) claimed responsibility for the bombs in a statement published on an Islamist website, the authenticity of which could not be immediately confirmed.
"We are announcing the good news to the Muslim nation," read the statement, alongside photographs it said were the two suicide bombers, named as Abdel Rahmane al-Assmi and Ammi Ibrahim Abou Othmane, carrying assault rifles.
It hailed "the success of the two martyr operations carried out by... two heros in Algiers to defend the nation of Islam and to humiliate the crusaders and their agents, the slaves of the United States and the sons of France."
"The official toll that we have given is the real toll," Algerian Prime Minister Abdelaziz Belkhadem insisted on national television. "We have nothing to hide and every drop of Algerian blood counts for us."
It was the latest of a series of bombings in the capital and other major Algerian cities this year that have killed about 100 people. Al-Qaeda have claimed responsibility for all of them.