JERUSALEM - Israeli and Palestinian negotiating teams will meet on Wednesday for the first time since formal peace talks were launched at a US-sponsored conference last month.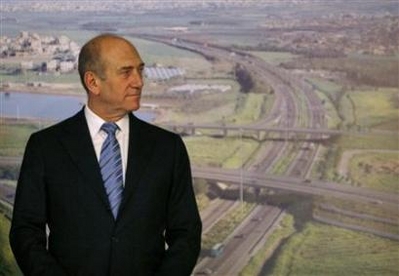 Israel's Prime Minister Ehud Olmert attends a dedication ceremony of a new highway section near the southern Israeli town of Kiryat Gat, December 11, 2007. [Agencies]
The teams will meet despite calls by some Palestinians to boycott negotiations over Israeli plans to build new houses on occupied land in the Jerusalem area. Israeli construction at the same settlement led to a collapse of peace talks in 1997.
Israeli Foreign Minister Tzipi Livni and former Palestinian Prime Minister Ahmed Qurie will lead the negotiations, set to take place at 12.30 pm (5:30 EST) in Jerusalem.
The talks are the first since the Annapolis conference, where Israeli Prime Minister Ehud Olmert and Palestinian President Mahmoud Abbas agreed to try to broker a deal on Palestinian statehood by the end of 2008.
Israeli Foreign Ministry spokesman Arye Mekel said Wednesday's meeting would "jump start" peace talks, adding the two sides would discuss the possibility of setting up negotiating subgroups and the pace of talks.
"It is the first step. The meeting will probably be relatively short and procedural," he said.
Some Palestinian officials had considered boycotting the meeting after Israel issued a tender for about 300 new homes near Jerusalem on land it annexed during a 1967 Middle East war - a move not recognized internationally.
But in the end Palestinian leaders decided to attend the talks and to focus on pressing Israel for a settlement freeze.
"I don't see how we can have two tracks, a negotiation track and a settlement expansion track," Palestinian negotiator Saeb Erekat said. "The expansion of settlements was the story of previous governments and we are in the same boring movie again."
The peace push, launched by US President George Bush, follows seven years of violence and a deadlock in negotiations.
The start of the building on Har Homa - known to the Palestinians as Abu Ghneim - just north of Bethlehem, in 1997 led to a collapse in final peace talks at that time.
US Secretary of State Condoleezza Rice said on Monday she hoped the building plan would not "cloud" peace talks.