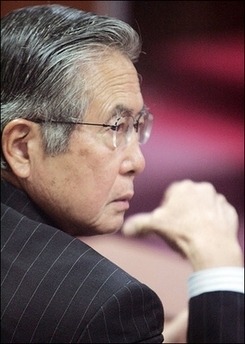 Fujimori gestures during his trial at the Supreme Court's Special Court in Lima Dec 10, 2007. [Agencies]
LIMA -- A Peruvian court sentenced on Tuesday Alberto Fujimori, the nation's president from 1990 to 2000, to six years in prison and ordered him to pay a fine of 400,000 new soles (US$132,000) to the state.
The court also barred him from standing for any kind of political office for two years.
Pedro Urbina, a spokesman for the Supreme Courts of Justice, read the sentence saying that it had been handed down for breaking into the homes belonging to the wife of his former advisor who also headed the National Intelligence Service (SIN).
Fujimori consulted with his lawyer, Cesar Nakazaki, and then said that he would present a partial appeal: contesting the jail sentence and the fine. The nation's prosecutor in chief said that he would set aside his right to appeal.