XIANGHE, Hebei: Dialogue is the only way to settle economic and trade disputes because politicizing them will harm Sino-US business ties, Vice-Premier Wu Yi said Wednesday.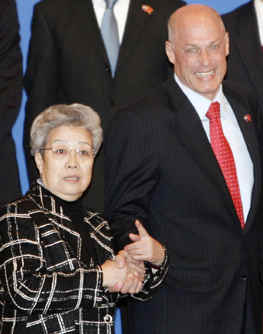 Chinese Vice-Premier Wu Yi (L) asks US Treasury Secretary Henry Paulson to look at journalists during the opening of The Third Strategic Economic Dialogue in Xianghe, near Beijing, December 12, 2007. [Agencies]
"History has repeatedly shown it is dialogue and consultation, not confrontation and finger pointing, that have enabled China-US business relations to grow," Wu said Wednesday at the opening ceremony of the two-day Third China-US Strategic Economic Dialogue (SED).
"We must oppose attempts to politicize trade issues, which will harm the interests of not just one side, but both," Wu said.
Describing the China-US business relationship as the most complex in the world due to its huge scale, broad scope and extensive interests of various parties involved, Wu said the relationship needs to be viewed from a strategic perspective.
"Growing business relations featuring interdependence and mutual benefit have brought our two nations increasingly closer," the vice-premier said.
"This is why we must not allow some interest groups to harm our ties in pursuit of their selfish interests," she said.
Referring to the 50 or so China-related protectionist bills introduced in the US Congress, Wu said: "I need to be quite candid about this: If these bills are adopted, they will severely undermine US business ties with China.
"Obviously, resorting to trade protectionism and blaming another country for the structural problems in the US economy is the wrong approach which would only harm the interests of the US itself."
China has no intention of seeking a large trade surplus with the United States, she added.
Bilateral trade volume is expected to top $300 billion this year, Wu said, adding that the two countries are each other's second-largest trading partners and that China has been the fastest growing export market for the United States for five years in a row.
"Our policy is to maintain a basic balance in international payments," Wu said.
Addressing the trade imbalance requires concerted efforts by both sides, Wu said, and called on Washington to relax restrictions on exports of civilian-use high-tech products to China.
Both Wu and US Treasury Secretary Henry Paulson, head of the US delegation to the SED, warned against protectionism
"Neither China nor the United States can protect our way to further prosperity," Paulson said, highlighting the greater interdependence between the two economies.
"There is hardly an issue - from trade, to product safety, to climate change - where American and Chinese economic interests do not overlap. The US-China relationship has become central to each nation's interests and to maintain a stable, secure and prosperous global economic system," Paulson said.
Inaugurated last year, the SED is a semiannual event focusing on bilateral and global strategic economic issues of common interest and concern.
"The SED is not a negotiating forum but a platform through which the two sides can better understand each other and understand the logic behind their policies," Zhao Xijun, a finance professor at Renmin University of China told China Daily earlier.
Related Stories

Currency 'cannot be revalued' at excessive pace
Pact on drugs, equipment safety inked
No ban on US movies
US to boost high-tech products export to China
Official urges US to clarify foreign investment policy