BALI, Indonesia: China Wednesday called for joint global efforts to combat climate change under the principle of "common but differentiated responsibilities".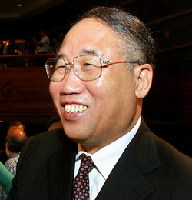 Xie Zhenhua
Xie Zhenhua, vice-minister of the National Development and Reform Commission, made the appeal at a high-level segment of the United Nations Climate Change Conference.
"Developing countries are innocent in terms of their responsibilities to the cause of climate change, but they are most vulnerable to the adverse impacts of climate change," he said.
"They need to strike a balance between economic development and efforts on climate change," he told China Daily.
But Xie noted that China will not continue the development mode that sets no restriction on greenhouse gas (GHG) emissions, as was previously the case with industrial countries.
"Common but differentiated responsibilities" means nations have common responsibilities to protect the environment and promote sustainable development, but due to different social, economic, historic and ecological situations, countries must shoulder different responsibilities.
The two-week conference, which wraps up tomorrow, brings together delegates from nearly 190 nations tasked with launching negotiations leading to an international accord to succeed the Kyoto Protocol in 2012.
Xie noted that during the ongoing conference, some negotiators are trying to change the principle of "common but differentiated responsibilities" decided upon at the Montreal conference in 2005.
"This means they are requiring the United States, China and India to receive a binding target. But for China, it is impossible because different countries should have various responsibilities based on their history, development and GHG emission per capita."