A senior economic planner has expressed concern that US investment policies are erecting barriers to Chinese investors securing stakes in American businesses.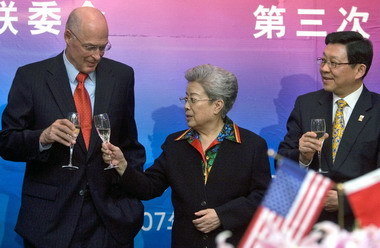 Chinese Vice Premier Wu Yi (C) and US Treasury Secretary Henry Paulson (L) toast as incoming Chinese Commerce Minister Chen Deming watches after a signing ceremony held for the Joint Commission on Commerce and Trade at the Diaoyutai State Guest House in Beijing December 11, 2007. [Agencies]
Zhang Xiaoqiang, vice-minister of National Development and Reform Commission, said the US Foreign Investment Bill has tightened national security reviews of proposed foreign investment, especially in the energy and infrastructure sectors, and requires a second-stage investigation of most proposed acquisitions by State-owned companies.
The bill was signed by President George W. Bush in July.
"Considering China's ownership structure and its overseas investment priorities, Chinese investors are faced with new uncertainties," Zhang, who will participate in the third China-US Strategic Economic Dialogue scheduled for today and tomorrow, told China Daily.
"We hope US policies and regulations do not become barriers for Chinese investors," said Zhang.
Since the reform and opening up launched in 1978, the ownership structure in China has undergone profound changes. It is far more diversified, and private and foreign investment contributes more than half of the economy.
However, State-owned enterprises (SOEs), especially large ones, still play a major role in the energy, aviation, chemical and auto-making industries.
Since the turn of the century, the government has launched "go-out" strategy to encourage competitive companies to invest overseas; and plans to bolster 30-50 SOEs as significant global players.
"Investors both from the US and China have shown a strong desire to invest in each other, and it's necessary for both countries to create a sound investment environment for them," said Zhang.
He said he hopes the US government specifies the risks investment poses to national security; and avoid unnecessary expansion of investigation scope of, and discrimination against, investment from the State sector.
Chinese companies are eager to increase their presence in the chemical, pharmaceutical, aviation and electronics sectors in the US. "And with ample foreign exchange reserves, we have the capacity to do so," said Zhang. China had $1.43 trillion in foreign reserves at the end of September.
Official figures show that US companies invested $6.55 billion in China last year, accounting for 3 percent of the US' total overseas investment.
In contrast, Chinese firms invested $198 million in the US in the same period, making up only 1.1 percent of total overseas investment that year.
With a total investment of $54 billion, US investors have set up 52,211 companies in China.
"But compared with our economic strength, the investment is not much and we have great potential to tap," said Zhang.