Algiers -- Seven Chinese workers were injured in a car bombing in Algiers on Tuesday, sources of China State Construction Engineering Corporation's Algeria office said.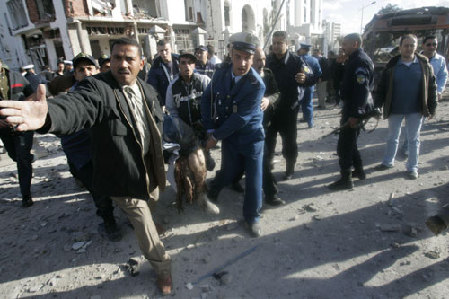 Rescuers carry the body of a bomb blast victim in Algiers, December 11, 2007. Two car bomb attacks, one of which targeted offices of the UN refugee agency, killed at least 67 people in the Algerian capital Tuesday, authorities said. [Agencies]
The workers were at a construction project near one of the two explosions in Algiers that have killed at least 67 people and left dozens more injured.
Five of the injured workers have left hospital after brief treatment, while the other two remained under medical care, with no life-threatening wounds.
The two car bombings, one targeted the offices of the UN refugee agency and the other exploded near the Algerian Supreme Court building, have claimed at least 67 lives, said a health ministry source.
Around 12 UN staff members in Algiers were missing after the explosions, said a spokesman who previously had said 10 UN staff were among the dead.
No group has claimed responsibility for the attacks.
Related: Al-Qaeda claims deadly Algiers bombs