Dialogue prevailed again in key Sino-US talks, resulting in a series of agreements by Tuesday afternoon to deepen collaboration on contentious issues such as product safety, energy and environmental protection.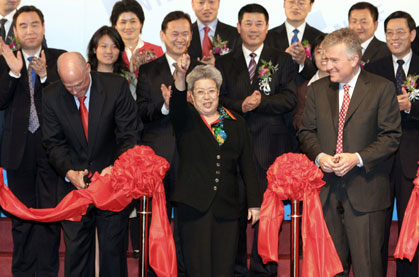 Chinese Vice Premier Wu Yi (C) celebrates as she, US Treasury Secretary Henry Paulson (L), and New York Stock Exchange (NYSE) CEO Duncan Niederauer (R) cut the ribbon at an opening ceremony of NYSE Beijing Representative Office in Beijing December 11,2007.  [Agencies]
Chinese Vice Premier Wu Yi called this one-day closed-door 18th Joint Commission on Commerce and Trade "substantial" and "evidence of sincere goodwill from both sides to resolve economic and trade issues through peaceful consultation."
The successful outcome of Tuesday's meeting established a positive tone for the third China-US Strategic Economic Dialogue, which is to start on Wednesday, and provided a forceful boost to trade development, she said.
Product safety, an issue that has sparked many disputes since spring, appeared to have dominated the agenda Tuesday, since three of the 14 agreements and memoranda agreed upon involve cooperation on the safety of drugs, medical devices, food and feed, alcohol and tobacco.
The two sides also agreed to facilitate travel of Chinese tourist group to the United States, establish a forum on environmental protection technology and industrial cooperation and work more closely in the areas of agricultural science and technology and the development of bio-fuels.
The meeting also completed guidelines on China-US high-technology and strategic trade development, in an apparent effort to address chronic trade imbalances.
US Commerce Secretary Carlos Gutierrez and Wu Yi warned Tuesday morning about the rise of and dangers from protectionist forces, and both expressed hope that the annual meeting and the following two-day strategic economic dialogue would have a commitment to openness.
"The way that we want to reduce our deficit is by exporting more, not by reducing imports," Gutierrez said.