Algiers - Sixty-seven people were killed when two car bombs exploded in upscale districts of Algiers on Tuesday, a health ministry source said, in the bloodiest attack since an undeclared civil war in the 1990s.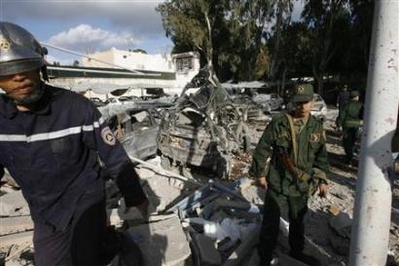 A rescue worker (L) and a gendarme stand at the site of a bomb blast at the Constitutional Court building in Algiers December 11, 2007. [Agencies]
There was no immediate claim of responsibility but commentators said it appeared the work of al Qaeda's north Africa wing, which claimed a similar bombing in downtown Algiers in April and other blasts east of the capital over the summer that have worried foreign investors in the OPEC member state.
A UN spokesman said one employee of the UN refugee agency was killed and another was missing. There was no information on whether the agency was a target.
One of Tuesday's blasts struck near the Constitutional Court building in Ben Aknoun district and the other close to the UN offices and a police station in Hydra, both areas where several Western companies have their offices, a source said.
Interior Minister Noureddine Yazid Zerhouni said a suicide attacker appeared to have detonated the Hydra bomb.
In Ben Aknoun people ran through the streets crying in panic and the wail of police sirens filled the air.
A body lay on the road covered with a white blanket, two buses were burning, debris from damaged cars was strewn across pavements while police struggled to hold back onlookers.
"I want to call my family, but it is impossible. The network is jammed. I know they are very concerned as I work near by the council," a veiled woman working at a perfume shop said.
"There was a massive blast," a UN worker wrote in an anonymous item for a BBC website.
"Everything shattered. Everything fell. I hid under a piece of furniture so I wouldn't be hit by the debris... One of my colleagues had a big wound in her neck, she was bleeding severely."
Several of the casualties in Ben Aknoun were students riding a school bus, the official APS news agency said.
French president Nicolas Sarkozy, who visited Algiers only last week, called the blasts "barbaric and profoundly cowardly acts." Washington condemned the attacks and said it would continue counter-terror collaboration with Algeria.