QALA-E-KAZI, Afghanistan - Taliban militants released eight South Korean hostages on Wednesday, the first of 19 captives scheduled to be freed under a deal struck between the insurgents and the South Korean government.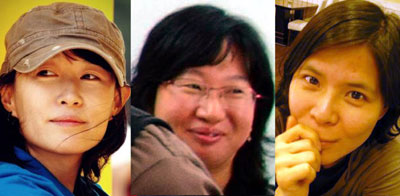 This combination photo released from Sammul church via Yonhap shows (from L to R) Ahn Hye-jin, Lee Jeong-ran and Han Ji-young, the South Korean hostages released by the Taliban in the Afghanistan province of Ghazni on August 29, 2007. Taliban insurgents freed three South Korean women hostages on Wednesday, the first of 19 Christian volunteers the Taliban agreed to release after South Korea said it would pull its troops out of Afghanistan. [Reuters]
The hostages were released into the care of officials of the International Committee of the Red Cross at two separate locations in central Afghanistan close to the city of Ghazni, according to an Associated Press reporter on the scene.
The first group of three women were released in the village of Qala-e-Kazi. Several hours later, four women and one man were released in a desert close to Shah Baz, said the reporter, who witnessed both hand-overs.
In Seoul, South Korean Foreign Ministry spokesman Cho Hee-yong said the three, who he identified as Ahn Hye-jin, Lee Jung-ran and Han Ji-young, did not appear to have any health problems.
To secure the hostages' release, South Korea reaffirmed a pledge it made well before the hostage crisis began to withdraw its 200 troops from Afghanistan by the end of this year. It also agreed to prevent South Korean Christian missionaries from working there. The Taliban apparently backed down on earlier demands for a prisoner exchange.
An Afghan government minister criticized Seoul for the deal's terms, saying it could embolden the Taliban.
"One has to say that this release under these conditions will make our difficulties in Afghanistan even bigger," the country's commerce minister, Amin Farhang, told Germany's Bayerischer Rundfunk radio. "We fear that this decision could become a precedent. The Taliban will continue trying to take hostages to attain their aims in Afghanistan."
The Taliban originally kidnapped 23 hostages as they traveled by bus from Kabul to the former Taliban stronghold of Kandahar on July 19. In late July, the militants executed two male hostages, and they released two women earlier this month.
The accord for the South Koreans' release came during one of the bloodiest periods of the Taliban's war against US and NATO forces since the Taliban regime was toppled in late 2001 after the Sept. 11 attacks on the United States.
South Korea's decision to hold face-to-face negotiations with the militants may dismay the United States government, which refuses to talk to the Taliban.