This year's consumer inflation is likely to exceed the central bank's target of 3 percent, a top official said Wednesday.
"Given the relatively high inflation in the first seven months of the year, even if we step up control measures now, the consumer price rise will still probably be above 3 percent for the whole year," Su Ning, vice-governor of the People's Bank of China (PBOC), told a news conference in Beijing Wednesday.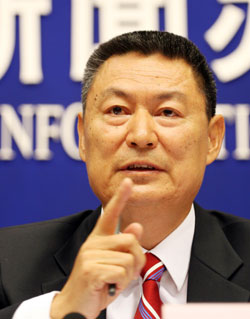 Su Ning, vice-governor of the People's Bank of China, makes a point at a news conference in Beijing August 29, 2007. [newsphoto]
"The central bank is paying close attention to changes in prices and will take further macroeconomic control measures to keep prices stable," Su said.
Spurred by surging food prices, the consumer price index, a key gauge of inflation, hit a 10-year high of 5.6 percent in July, up from 4.4 percent in June. The average inflation in the first seven months rose 3.5 percent year on year.
Food prices, which make up about a third of the inflation basket, rose 15.4 percent year on year last month. Prices in the first seven months rose 8.6 percent from the same period last year.
In a report to the Standing Committee of the National People's Congress, Ma Kai, minister of the National Development and Reform Commission (NDRC), said the government will take a slew of measures such as encouraging pig raising and increasing grain and vegetable supplies, to curb inflation.
"The government will also strengthen monitoring of prices and step up efforts to crack down on price cartels and illegal price rises," the minister said.
In an effort to curb inflation, the central bank last week raised interest rates for the fourth time this year. The benchmark one-year deposit rate is now 3.6 percent while the one-year lending rate is 7.02 percent.
"I expect the central bank to raise interest rates for the fifth time at the end of October," Li Zhikun, senior analyst at China Investment Securities Co Ltd, told China Daily.
Li estimated inflation in August to be above 6 percent due to the continuing rise of food prices, and forecast that inflation for the full year will likely to be around 4.2 percent.
Jun Ma, China economist at Deutsche Bank in Hong Kong, also estimated August inflation at round 6 percent; and believes the likely timing of the next rate hike will be in the second half of September.