WASHINGTON -- The United States and the Democratic People's Republic of Korea (DPRK) will have working group talks in Geneva to forge an agreement for the DPRK to declare and disable its nuclear weapons program by the end of 2007,a senior US official said Wednesday.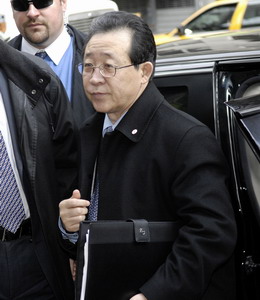 North Korean envoy Kim Kye-gwan, who will meet his US counterpart, Assistant Secretary of State Christopher Hill, arrives for meetings in New York March 5, 2007. [Reuters]
"I'm heading for Geneva tomorrow night to have the second working group with the DPRK delegation ... As I know, we'll have the first session at the US mission, second session at the DPRK mission," US Assistant Secretary of State Christopher Hill said at a briefing.
"We will try to get to this in early September so that we can then have an agreement on the implementation of the next phase, which is disablement and declaration on the part of the North Koreans," Hill said.
"So, we will try to set that up in the next six-party meeting and then begin implementing it in the fall with the hope that we can get through this by the end of calendar year '07," Hill said.
The first round of working group talks between the two countries was held in March in New York as part of the six-party agreement reached on February 13 this year.
Under the February agreement, the DPRK agreed to shut down its Yongbyon nuclear reactor in return for rewards including security guarantee and possible normalization of ties with the United States.
The DPRK has shut down its nuclear reactor according to the agreement. The United States has insisted that a complete dismantlement of the DPRK's nuclear arsenal is necessary for any establishment of ties between the two countries that have been enemies for over 50 years.