JOHANNESBURG, South Africa -- A man who claimed to be a shareholder in a mining company said Tuesday the firm had unearthed a diamond twice the size of the world's largest - a claim that set off excitement and skepticism. Industry experts said the report still needed to be verified.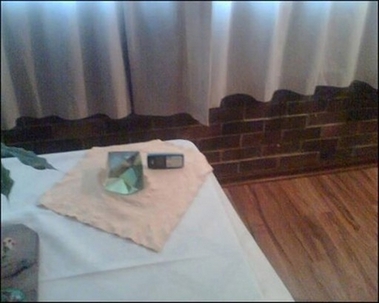 This photo downloaded Tuesday Aug. 28, 2007 with permission from the Mining Weekely Online Website as sourced from Brett Jolly shows a diamond reportedly twice as big as the Cullinan diamond, placed next to a mobile phone for size perspective, which was found in the North West Province, South Africa. [AP]
The announcement was made by Brett Jolly, a British property developer based in Cape Town, who said he could not identify the mining company for security reasons. He said the stone, seen only in a low-resolution photograph, was found Monday and is in a bank vault in Johannesburg pending verification.
"I was very skeptical but as the day went on and I received the picture ... I believe it is real," Jolly said.
He said the stone was about 7,000 carats and had been found at their operation in North-West Province.
Mining industry officials said the validity of the claim had to be checked.
"When it is an unknown mine, people ask questions and rightly so," said Les Milner, director of the Jewelry Council's diamond grading laboratory.
The industry publication Mining Weekly Online featured the news prominently, though it noted that the "validity of the claims were questioned by industry pundits."
The world's largest diamond, the Cullinan, the centerpiece of the British crown jewels, was discovered near Pretoria in 1905 and weighs about 3,000 carats.
Ernie Blom, chairman of the South African Diamond Council and president of the World Federation of Diamond Bourses, said from what he could see in the photograph the gem did have the characteristics of a diamond in terms of shape and color.
"It would be an extremely rare find. It would almost be like finding another Rembrandt," he said. He said the stone would have to be certified by an expert.
Jolly said the name of the company and identity of shareholders were not being revealed now because of security concerns.