GHAZNI, Afghanistan - Taliban militants were expected to release seven remaining South Korean hostages Thursday, bringing to an end a six-week drama that saw two captives killed by the kidnappers, a South Korean official said.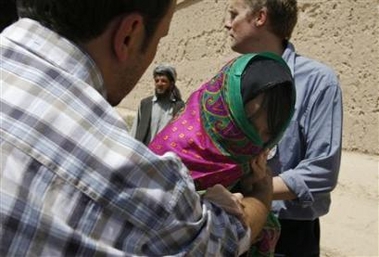 One of the three South Korean hostages is escorted after being released in the city of Ghazni August 29, 2007. Taliban insurgents freed three South Korean women hostages on Wednesday, the first of 19 Christian volunteers the Taliban agreed to release after South Korea said it would pull its troops out of Afghanistan. [Reuters]
South Korean presidential spokesman Cheon Ho-sun said Thursday that once free, the group will be heading to Kabul before returning home via Dubai.
On Wednesday, the Taliban released 12 of 19 South Koreans held, as part of a deal with Seoul that one Afghan minister warned would embolden the insurgents.
The hostages were released into the care of officials of the International Committee of the Red Cross at three separate locations in central Afghanistan.
None of the 12 spoke to reporters.
The Taliban originally kidnapped 23 South Koreans as they traveled by bus from Kabul to the former Taliban stronghold of Kandahar on July 19. In late July, the militants killed two male hostages, and they released two women earlier this month as gesture of goodwill.
The first three women freed arrived in a village of Qala-e-Kazi in a single car, their heads covered with red and green shawls. Red Cross officials quickly took them to their vehicles before leaving for the office of the Afghan Red Crescent in the town of Ghazni, witnesses said.
Under the terms of Tuesday's deal, South Korea reaffirmed a pledge it made before the hostage crisis began to withdraw its troops from Afghanistan by the end of this year. Seoul also said it would prevent South Korean Christian missionaries from working in the staunchly Muslim country, something it had already promised to do.
The Taliban apparently backed down on earlier demands for a prisoner exchange. But the militant group, which killed two South Korean hostages last month, could emerge with enhanced political legitimacy for negotiating successfully with a foreign government.
"One has to say that this release under these conditions will make our difficulties in Afghanistan even bigger," Commerce Minister Amin Farhang told Germany's Bayerischer Rundfunk radio. "We fear that this decision could become a precedent. The Taliban will continue trying to take hostages to attain their aims in Afghanistan."
A German engineer and four Afghan colleagues kidnapped a day before the South Koreans are still being held.
South Korea's government, which has been under intense domestic pressure to bring the hostages home safely, said it had tried to adhere to international principles while putting priority on saving the captives.
South Korea and the Taliban have said no money changed hands as part of the deal.
An Indonesian government official who took part in the negotiations Tuesday between three South Korean officials and two Taliban commanders where the deal was struck said money was not brought up.
"From what I saw and from what I heard in the talks, it was not an issue," Heru Wicaksono said.
Wicaksono, a high-ranking official at the Indonesian Embassy in Kabul, said the Taliban were motivated by "humanitarian feelings" to free the captives. The Afghan government was not party to the negotiations, which took place in Ghazni and were facilitated by the ICRC.
Wicaksono was an observer at the talks, chosen by both sides because Indonesia is a large Muslim country.
Afghanistan has seen a rash of kidnappings of foreigners over the last year.
The Italian and Afghan governments were heavily criticized in March for agreeing to free five Taliban prisoners to win the release of an Italian journalist. The head of the Italian aid agency Emergency also has said Rome also paid a $2 million ransom last year for a kidnapped Italian photographer -- a claim Italian officials did not deny.