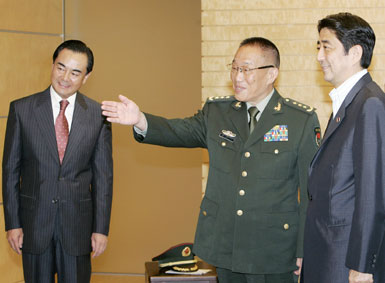 Chinese Defense Minister Cao Gangchuan (C), accompanied by Chinese Ambassador to Japan Wang Yi, introduces his delegation members to Japanese Prime Minister Shinzo Abe (R) before their meeting at the prime minister's official residence in Tokyo August 30, 2007. [Reuters]
TOKYO: Defense Minister Cao Gangchuan Thursday urged Japan to recognize the sensitivity of the Taiwan question and stick to the one-China policy - to which top leaders in Tokyo responded positively.
Cao, during talks with his Japanese counterpart Masahiko Komura, said the Taiwan question involves China's core interests and Beijing is trying its best to peacefully resolve the issue.
Some Taiwan separatists, led by Chen Shui-bian, have been plotting separatist activities on a large scale, which poses a great danger to the peace and stability in Taiwan Straits, the Asia- Pacific region, as well as the world, Cao said.
He said China hopes that Japan will have no official contact with Taiwan and not send any wrong signals to the separatists.
Cao is on a five-day official visit to Japan, the first by a Chinese defense minister to the country in nine years.
The two countries agreed to launch a study group on setting up a military hotline.
They also reached an agreement on Komura's visit to China next year, and Cao invited Japan to observe a Chinese military exercise next month.
To enhance military exchanges and promote mutual trust, a Chinese navy fleet will visit Japan in November or December.
This year marks the 35th anniversary of the normalization of diplomatic ties between China and Japan and offers an important opportunity as well as challenges for the development of bilateral ties, Cao said.
He noted that defense exchanges between the two neighbors should be seen from a strategic prospective since they are significant to the building of mutual trust and long-term friendship.
"China is ready to continue working with Japan to promote a healthy and stable bilateral relationship," he said.
Komura noted that the visit by the Chinese defense minister is highly significant for promoting understanding and trust, and exchanges in the security sphere.
On the Taiwan question, Komura said Japan will stick to the position stated in the three political documents signed between the two countries and that Tokyo does not support "Taiwan independence".
In response to Komura's concern about China's growing defense expenditure, Cao explained that most of the increased spending has gone to raising salaries.
Japanese Prime Minster Shinzo Abe, in his meeting with Cao, said China's development is good both for Japan and the whole world, adding that he supports increased defense exchanges with China.
Military cooperation benefits not only security in Japan and China, but also the region's peace and stability, he said.
On the Taiwan question, Abe said Japan does not support any remarks or actions that would unilaterally alter the status quo across the Taiwan Straits.
Cao on Thursday also met Japanese Foreign Minister Nobutaka Machimura.