WASHINGTON - The US economy grew at its strongest pace in more than a year during the spring as solid improvements in international trade and business investment helped offset weakness in housing.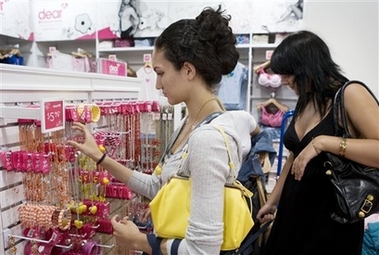 Nicole DeMarco, left, shops at Steve & Barry's store on Thursday, Aug. 16, 2007 in New York. Consumer confidence weakened in August as volatile financial markets and housing problems took a toll, a private research group said Tuesday, Aug. 28, 2007. [AP]
The gross domestic product, the broadest measure of economic health, expanded at an annual rate of 4 percent in the April-June quarter, significantly higher than the 3.4 percent rate the government had initially estimated a month ago, the Commerce Department reported Thursday.
But the growth spurt could be short-lived. There are concerns that the recent turmoil in financial markets, a result of a spreading credit crisis, could seriously dampen economic activity in the second half of this year.
GDP growth may have slowed to just above 2 percent in the current quarter and many analysts believe growth will slow even further in the final three months of this year as the full impact of the recent market turmoil is felt.
The worry is that the roller coaster ride in stocks and spreading credit problems will shake consumer and business confidence and cause cutbacks in spending and hiring plans.
However, analysts believe the US Federal Reserve will act to avert a full-blown recession. If financial turmoil persists, they think the Fed will wield its major policy tool, cutting its target for the federal funds rate, the interest that banks charge each other. That rate has been at 5.25 percent for more than a year, but investors are starting to hope that the Fed will begin reducing it in quarter-point moves starting at their next meeting on Sept. 18.
The Fed on Aug. 17 cut a less economically significant rate, its discount rate, and has injected billions of dollars into the banking system in an effort to keep credit markets operating in the face of the turmoil. US Federal Reserve Chairman Ben Bernanke may offer hints about the Fed's next policy moves when he delivers remarks at a Fed conference on Friday.