KABUL -- Taliban will on Wednesday start releasing the 19 South Korean Christian volunteers they kidnapped nearly six weeks ago, a representative of the group said.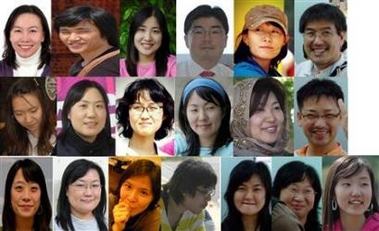 This combination picture released August 28, 2007 via Yonhap shows the 19 remaining South Koreans kidnapped by the Taliban in Afghanistan. [Reuters]
"Our decision is today," said Qari Mohammad Bashir, who was involved in the talks with a South Korean team on the release of the hostages. "We are trying to start the work today."
A South Korean government official would not comment on the report.
In South Korean, missionary groups said on Wednesday they would pull out of Afghanistan to comply with a deal Seoul struck with Taliban insurgents for the release.
The Taliban said they would release the remaining 19 provided Seoul pulls out its troops and stops Korean missionary work in Afghanistan by the end of this year.
South Korea had already decided before the crisis to withdraw its contingent of about 200 military engineers and medical staff from Afghanistan by the end of 2007. And since the hostages were taken it has banned its nationals from traveling there.
The 23 volunteers sent to Afghanistan by the Saemmul Church were seized on July 19 from a bus in Ghazni Province. The insurgents killed two male hostages early on in the crisis, but released two women as a gesture of goodwill during a first round of negotiations.