"Maybe they (the Taliban) did not achieve all that they demanded, but they achieved a lot in terms of political credibility," said Mustafa Alani, director of security and terrorism studies at the Dubai-based Gulf Research Center. "The fact that the Koreans negotiated with them directly and more or less in their territory ... is in itself an achievement."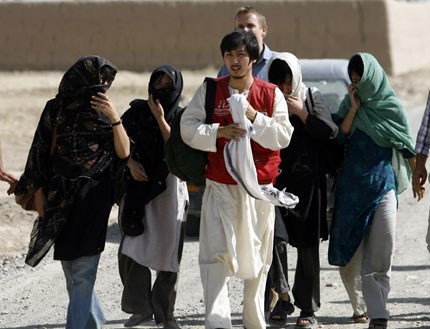 Five released South Korean hostages walk in the city of Ghazni August 29, 2007. Taliban insurgents freed eight South Korean hostages in two separate batches on Wednesday, the first of 19 Christian volunteers the Taliban agreed to release. [Reuters]
State Department spokesman Tom Casey said Tuesday that the US wanted the Koreans returned to their families and stressed that US policy was not to make concessions to terrorists.
The deal for the hostages' release was struck during talks between Taliban negotiators and South Korean diplomats in the central city of Ghazni. The Afghan government was not party to the negotiations, which were mediated by the ICRC.
The hostages' relatives in South Korea welcomed news of the deal.
"I would like to dance," said Cho Myung-ho, mother of 28-year-old hostage Lee Joo-yeon.
South Korean presidential spokesman Cheon Ho-sun said the deal had been reached "on the condition that South Korea withdraws troops by the end of the year and South Korea suspends missionary work in Afghanistan."
Cha Sung-min, whose 32-year-old sister, Cha Hye-jin, was among the hostages, said he was "sorry to the public for causing concern, but we thank the government officials for the (impending) release."
"Still, our hearts are broken as two died, so we convey our sympathy to the bereaved family members," said Cha Sung-min, who has served as a spokesman for the hostages' relatives.