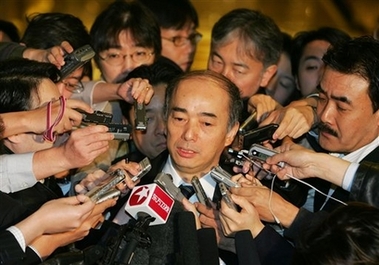 Japanese chief negotiator Kenichiro Sasae, center, speaks to journalists at his hotel before heading out for second day of talks on North Korea's nuclear program, in Beijing Friday Feb. 9, 2007. [AP]


BEIJING - Envoys to international talks on ending North Korea's nuclear weapons program struggled Friday to find a compromise as differences emerged over a Chinese proposal on how to begin the disarmament process.

However, the main US negotiator, Assistant Secretary of State Christopher Hill, and his North Korean counterpart, Vice Foreign Minister Kim Kye Gwan, suggested that the differences were not insurmountable.

"I think we can be cautiously optimistic," Hill said after a two-hour lunch meeting with Kim, the first bilateral session between the two sides at this week's talks.

Kim said the meeting led to agreement on some unspecified issues, although there were still issues to overcome. "We are going to make more efforts to resolve them," he said.

Late Thursday after the first day of talks, China distributed a draft agreement to the nuclear envoys from China, Japan, the two Koreas, Russia and the United States.

The draft deals with an initial set of reciprocal steps aimed at implementing a 2005 agreement that calls for North Korea to disarm in exchange for security guarantees and aid.

The one-page plan - presented at meetings where North Korea agreed in principle to take initial steps to disarm - would grant the country unspecified energy aid for shutting down its main nuclear facilities, South Korea's Yonhap news agency reported.

Russia's Interfax news agency said the US wants the agreement to state North Korea would "dismantle" its nuclear facilities, instead of just shutting them down, but that North Korea was opposed to the demand. The report cited an unidentified source.

Officials declined to confirm details of the draft.

On Friday, Hill said he saw "differences" among the delegations over the draft deal.

"Opinions were expressed around the room, sometimes divergent opinions on the Chinese draft," Hill said. "There are some differences of views among the various delegations."

Any agreement on an initial set of reciprocal moves to implement a September 2005 accord - in which North Korea pledged to disarm in exchange for aid and security guarantees - would set the stage for the first tangible steps in the often-delayed six-nation process.

The 2005 deal, a broad statement of principles that did not outline any concrete steps for dismantling North Korea's nuclear program, was the only agreement since the negotiations began in 2003.

At the last session of the arms negotiations, in the wake of North Korea's October 9 underground nuclear test, the North Koreans refused to even talk about its nuclear programs. Instead, Pyongyang demanded the US lift financial restrictions targeting alleged North Korean counterfeiting and money laundering.

But since then, the US and North Korean nuclear envoys held an unusual one-on-one meeting in Germany last month where differences between the sides were apparently discussed, although no details of any concessions have been made public. Pyongyang and Washington held separate talks in Beijing late January on the financial issue, although it has yet to be resolved.

The six-nation talks began in August 2003, but the North has twice boycotted them for more than a year. The latest was over a US decision to blacklist a Macau bank where the North held accounts, saying it was complicit in the regime's alleged counterfeiting and money laundering.