N.Korea nuclear talks resume amid optimism
(AP)
Updated: 2007-02-08 12:42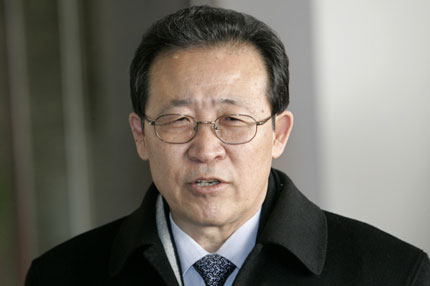 North Korea's negotiator for the six-party talks Kim Kye-gwan speaks to the media after arriving in Beijing's airport February 8, 2007. Six-party talks aimed at dismantling North Korea's nuclear programme resume in Beijing on Thursday with the top US envoy denying a Japanese media report that North Korea had signed a deal with Washington. [Reuters]


International talks on North Korea's nuclear program convene Thursday amid a new sense of optimism about the possibility of the first tangible progress on North Korea's disarmament since negotiations began more than three years ago.

The main US envoy said he senses "there is a real desire to have progress" on the part of the North Koreans in talks aimed at dismantling Pyongyang's nuclear weapons program.

"We are prepared to discuss first-stage measures," the North's nuclear envoy Kim Kye Gwan said on arriving in Beijing for the six-nation negotiations set to start later Thursday.

Media reports have suggested the North may agree to freeze its main nuclear reactor and allow international inspectors in exchange for energy aid as a starting step to disarm.

But Kim said any moves by North Korea would be determined by the United States' attitude.

"We are going to make a judgment based on whether the United States will give up its hostile policy and come out toward peaceful coexistence," he said, adding that Washington was "well-aware" of what it had to do.

"I'm not either optimistic or pessimistic because there are still many points of confrontation to resolve," Kim said.

Ahead of the six-nation talks, North Korea had signaled it was satisfied with changes in the United States' attitude, and there appeared to be a greater willingness on all sides to compromise on issues that had deadlocked previous talks.

But US Assistant Secretary of State Christopher Hill denied a report in a Japanese newspaper Thursday that the United States and North Korea had signed a memorandum during bilateral talks last month agreeing that Pyongyang's first steps toward denuclearization and US energy support would begin simultaneously.

"We did not sign anything," Hill told reporters, but added he was hopeful the Beijing talks would lead to tangible progress.

"If we're successful we could get to the point where we are discussing technical matters at working groups," he said.

Japanese envoy Kenichiro Sasae said the main goal of the current round of talks was to make concrete progress toward disarmament.

"We are prepared to do our utmost toward this goal, and we strongly hope and are certain that North Korea has come prepared to do that," Sasae said in Beijing.

The lack of progress at the arms negotiations has raised the issue of the credibility of the talks. Since 2003, they have produced only a single agreement in September 2005 on principles for North Korea to abandon its nuclear program in exchange for aid and pledges that Washington won't invade North Korea.

Negotiators said it was key to take the first steps to implement that September 2005 agreement at this week's talks, which bring together China, Japan, Russia, the United States and the two Koreas.

"When we do get a set of actions, or if we do, it will widely be seen as a very solid positive step for the implementation of the September agreement, with the understanding that there is no success till we implement the full agreement," Hill said Thursday.

"So we have got a lot of work to do today and in the coming days and probably in following meetings of the six parties," he said.

The latest nuclear standoff with North Korea was sparked in late 2002 after Washington accused Pyongyang of a secret uranium enrichment program in violation of a 1994 deal between the two countries. North Korea kicked out nuclear inspectors and restarted its main reactor, moves that culminated in the country's first-ever test atomic detonation in October.

Although the US, China and Russia backed UN sanctions in the wake of the nuclear test, Washington has since engaged in a series of diplomatic overtures that have drawn praise from Pyongyang.

That includes Hill's trip to Germany last month to meet North Korean nuclear envoy Kim Kye Gwan. The North said after that the sides had reached an unspecified agreement, but the specifics of what they discussed have not been made public.

Washington has also held separate talks on financial restrictions it has placed on a Macau-based bank where North Korea held accounts, accusing it of complicity in the regime's alleged counterfeiting and money laundering. Blacklisting that bank has scared off other financial institutions from dealings with North Korea for fears of losing access to the US market.

North Korea had earlier demanded the financial restrictions be lifted for it to disarm, and refused to talk about anything besides that issue at the last nuclear talks in December.

No end date has been set for this round of talks, but Hill has said the Chinese hosts expected the talks to last a few days and the sides would start reviewing a draft agreement Friday.
Most Commented/Read Stories in 48 Hours