DPRK hints at flexibility in Six-Party Talks
The Democratic People's Republic of Korea (DPRK) hinted at flexibility in its position on the Six-Party Talks yesterday, raising hopes that a new round of negotiations aimed at dismantling its nuclear weapons program could make headway.
The DPRK's chief negotiator, Kim Kye-gwan, dropped the hint in Beijing where he was meeting with Chinese counterpart Wu Dawei and Republic of Korea (ROK) envoy Chun Yung-woo.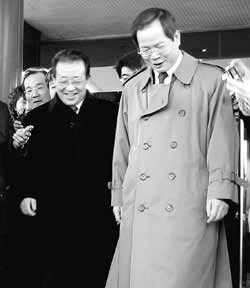 ROK chief negotiator Chun Yung-woo (right) and DPRK negotiator for the Six-Party Talks Kim Kye-gwan leave a meeting in Beijing yesterday. AFP
"Everything can change," Kim told reporters after meeting Chun, when asked if there has been any change in the DPRK's position. He did not elaborate.

Today's Top News
Editor's picks
Most Viewed