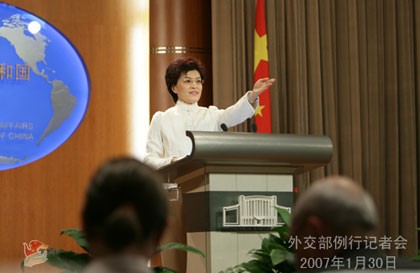 Jiang Yu, spokeswoman of the Chinese Foreign Ministry, solicits a question at the press conference January 30, 2007 in Beijing. Jiang said that the six-party talks on North Korea's nuclear issue will resume on February 8 in Beijing. [fmprc.gov.cn]


Six-party talks aimed at solving the North Korean nuclear issue are to resume in Beijing on February 8, China's Foreign Ministry said on Tuesday at the ministry's regular press briefing.
The last round of negotiations in December, two months after North Korea raised the stakes by conducting a nuclear test, produced no breakthrough.
The announcement of a new round comes after meetings in Berlin between the chief US negotiator Christopher Hill and his North Korean counterpart, Kim Kye-gwan, raising hopes for progress this time.
The talks group the two Koreas, the United States, Japan, Russia and host China.
Tuesday's announcement was made by ministry spokeswoman, Jiang Yu, who said the length of the negotiations would hinge on the progress to be made as the Chinese Lunar New Year falls in the middle of February.
Jiang said the talks will focus on further discussion on how to concretely implement the September 19 statement, deemed by the ministry as a "political declaration" for the goal of denuclearization as well as a "guiding document" that should be observed by all parties.

"There have been significant contacts between the various parties on how to move the talks forward and implement the joint statement," she said.
"These contacts have laid the foundation for the six-party talks resuming as early as possible.
"...We hope that all sides will continue to display a positive attitude, strengthen dialogue, enhance trust and as early as possible fully implement the joint statement and realise the goal of denuclearising the Korean peninsula."
Jiang said the six-party talks remains an effective mechanism for resolving the Korean peninsula's nuclear issue though it would be a gradual, long and complex course.

The envoys will be seeking to flesh out an agreement for initial implementation of a September 2005 joint statement that committed Pyongyang to dismantle its nuclear weapons in return for economic and security assurances.
Hill said on Monday North Korea's commitment to give up its nuclear weapons was "strong" and Washington would not allow other issues, including a dispute over UN Development Programme money, to undercut a nuclear deal.
Hill declined to reveal details of what might emerge from the Beijing talks but said "we have the basis of a good six-party meeting".
He leaves this weekend for discussions in Seoul and Tokyo.
The last session of six-party talks bogged down over Pyongyang's complaints about a US financial crackdown that led to Macau freezing $24 million in North Korean accounts and many other international banks curtailing business with the North.
The United States Treasury in September 2005 said Macau's Banco Delta Asia helped Pyongyang to launder earnings from counterfeit US dollars and illicit drugs.
On Tuesday, the US deputy assistant Treasury secretary for terrorist financing and financial crimes, Daniel Glaser, was due to resume talks with North Korean officials in Beijing about untangling the financial dispute.