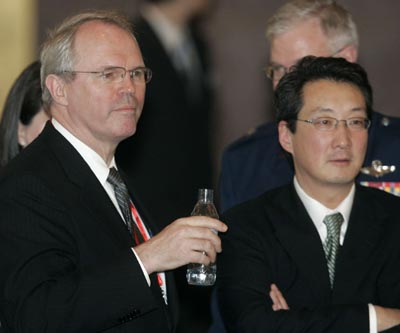 Chief US negotiator Christopher Hill (L) attends the opening of another round of the six-party talks at Diaoyutai State Guesthouse in Beijing February 8, 2007. [Reuters]


BEIJING - The main US negotiator said Thursday that North Korea nuclear talks resumed on a positive note, and that sides were hoping to achieve an agreement on the first steps for Pyongyang's disarmament.

"We had a good first day today," Assistant Secretary of State Christopher Hill told reporters. "We hope we can achieve some kind of joint statement here."

Unlike the last round of six-nation talks in December, Hill said the countries "were able to make progress on discussing denuclearization."

North Korea has said earlier it may be willing to give up its nuclear weapons as fresh six-nation talks began amid warnings that four years of tough diplomacy on Pyongyang was at a crossroads.

Four months after North Korea conducted its first atomic test to back its claims of being a nuclear power, the nation's chief atomic envoy said disarming was a possibility, but that the onus rested with the United States.

Kim Kye-Gwan said he was prepared to talk about reviving a deal made in the six-way talks in September 2005, under which North Korea would scrap its nuclear programme in return for aid, energy benefits and security guarantees.

"We are ready to discuss the initial steps, but whether the US will give up its hostile policy against us and come out for mutual peaceful co-existence will be the basis for our judgement," Kim told reporters ahead of the talks.

"There are still lots of contentious points yet to be settled. It depends on how we settle those contentious points. We'll have to wait and see."

South Korean envoy Chun Yung-Woo said the negotiations would be picking up in pace Friday when host China would draft an agreement.

"Tonight or tomorrow, China is expected to make a draft agreement based on today's keynote speeches and discussions at the plenary session, and pass it on to others," Chun said after the Thursday meeting was over.

Before the on-again, off-again negotiations resumed Thursday afternoon, US envoy Christopher Hill said he believed North Korea could be enticed into recommitting to the 2005 deal.

The agreement fell apart only two months after it was signed amid North Korean protests over unrelated US sanctions imposed against it for alleged money laundering and counterfeiting.

Although the sanctions standoff remains, Hill said he expected Kim would negotiate this week on reviving the deal, following positive direct talks between the pair in Berlin last month.

"I have every reason to believe that, but it's really between him and his boss," Hill said.

China is the host of the six-way talks, which began in 2003 with the initial aim of getting North Korea to abandon its nuclear ambitions.

The stakes were raised after North Korea's atomic test in October last year, and the forum now hopes to convince North Korea to disarm entirely.

As well as China, North Korea and the US, other countries in the process are Japan, Russia and South Korea.

China's chief envoy Wu Dawei said he wanted a "new beginning" to the process, following repeated false dawns, stalemates and disputes.

"I sincerely hope... all parties will make further efforts to make this session... a fresh start in the process towards the denuclearisation of the Korean peninsula," Wu said in comments broadcast on national television.

The Japanese envoy, Kenichiro Sasae, who earlier said the diplomatic process had reached a watershed moment, told his counterparts on Thursday that North Korea must agree to quickly take concrete first steps towards disarming.

The initial steps must be for North Korea to freeze activities at its Yongybyon nuclear reactor and allow International Atomic Energy Agency inspectors, who were kicked out in 2002, back into the country.

"These measures... need to be implemented in a relatively short period of time," Sasae said, according to a copy of his statement released to the press.

Hill has in recent days talked of possibly offering North Korea economic incentives in a "first tranche" of measures that would see Pyongyang take initial steps towards fulfilling its commitments under the 2005 accord.

However he has also warned that there were no prospects of North Korea completely disarming any time soon.

South Korea's Chun said Thursday the negotiations were at a "crossroads", while Hill conveyed a similar sense of urgency.

"It's a very important round because those of us who have been involved with this know that this cannot go on forever," he said.

No timeframe has been released for this round of talks, although delegates have said they expected it to last at least two or three days.