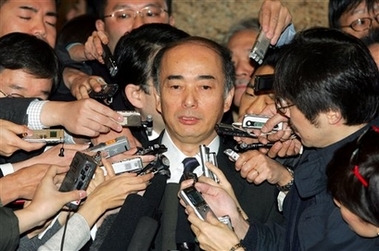 Japanese chief negotiator Kenichiro Sasae, center, speaks to journalists at his hotel before talks on North Korea's nuclear issue, in Beijing Thursday Feb. 8, 2007. [AP]


BEIJING - International talks on North Korea's nuclear program resumed Thursday after Pyongyang's envoy said he was ready to discuss initial steps toward nuclear disarmament, raising hopes for the first tangible progress at the talks since they began more than three years ago.

"We are prepared to discuss first-stage measures," North Korean nuclear envoy Kim Kye Gwan said on arriving in Beijing for the six-nation negotiations, which began later Thursday at a Chinese state guesthouse.

American experts who visited Kim in Pyongyang last week said North Korea would propose a freeze of its main nuclear reactor and a resumption of international inspections in exchange for energy aid and a normalization of relations with Washington.

Kim said Thursday that any moves by North Korea would depend on the United States' attitude.

"We are going to make a judgment based on whether the United States will give up its hostile policy and come out toward peaceful coexistence," he said, adding that the US was "well aware" of what it had to do.

North Korea has twice boycotted the nuclear talks for more than a year, claiming various US policies show the Bush administration intends to topple its government.

"I'm not either optimistic or pessimistic because there are still many points of confrontation to resolve," Kim said.

Still, his comments marked a change in North Korea's position from the last round of talks in December, when Kim refused to even discuss disarmament and demanded the lifting of US financial restrictions against a Macau bank where North Korea held accounts.

China planned to circulate a draft disarmament plan Thursday among delegates that would call for freezing the North's nuclear reactor within a few months in exchange for energy aid, South Korea's Yonhap news agency reported, citing an unnamed "high-level source" familiar with the talks.

Earlier Thursday, the main US envoy said he sensed "a real desire to have progress" by the North Koreans at the talks.

However, US envoy Christopher Hill denied a Japanese newspaper report that the United States and North Korea had signed a memorandum during bilateral talks last month agreeing that the North's first steps toward denuclearization and US energy support would begin simultaneously.

Hill said he was hopeful the talks would lead to progress such as working groups to discuss technical issues.

At the formal opening of the meeting, Chinese envoy Wu Dawei highlighted the contacts between Washington and Pyongyang since the six nations last gathered, which he said would "provide a more solid basis for this session."

Wu said the sides would discuss initial actions and establish working mechanisms to implement the North's disarmament.

Japan's envoy Kenichiro Sasae demanded in his opening statement that the North halt operation of its reactor and allow inspections as initial steps "within a reasonably short period of time," according a statement issued by the Japanese delegation.

The lack of any on-the-ground results on disarming North Korea has raised the issue of the credibility of the six-nation talks, which involve China, Japan, Russia, the US and the two Koreas.

Since 2003, they have produced only a single joint statement in September 2005 on principles for North Korea to abandon its nuclear program in exchange for aid and pledges that Washington won't seek the regime's ouster.

South Korea's envoy said Thursday the negotiations were at an "important crossroads" and needed to move beyond words to actions.

"Joint efforts, wisdom and flexibility from all six countries are badly needed now more than any other time," Chun Yung-woo told reporters.

Chinese Foreign Ministry spokeswoman Jiang Yu called on the sides to adopt a "pragmatic attitude" so they could make "a sound beginning for the implementation of the joint statement."

The latest nuclear standoff with the North Korea was sparked in late 2002 after Washington accused North Korea of having a secret uranium enrichment program in violation of a 1994 deal between the two countries. North Korea kicked out international nuclear inspectors and restarted its reactor, moves that culminated in the country's first-ever test atomic detonation in October.

Although the US, China and Russia backed UN sanctions in the wake of the nuclear test, Washington has since engaged in a series of diplomatic overtures that have drawn praise from the North.

They included Hill's trip to Germany last month to meet the North's Kim, along with separate US-North Korean talks on the financial restrictions placed on the Macau bank.

The US accuses Banco Delta Asia of complicity in North Korea's alleged counterfeiting and money laundering, and blacklisting the bank has scared off other financial institutions from dealing with the North for fears of losing access to the US market.