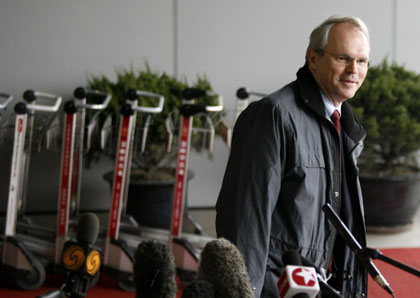 U.S. Assistant Secretary of State and chief negotiator Christopher Hill speaks to journalists upon arriving for the six-party talks in Beijing February 7, 2007. [Reuters]


BEIJING - Delegates to six-party talks converged on the Chinese capital on Wednesday in efforts to resolve the North Korean nuclear crisis, but envoys and analysts cautioned that final agreement could be a long way off.
Flying in to a city decked out for the Lunar New Year holiday, the U.S. chief negotiator said progress at the latest round of the start-stop talks depended on all six parties -- host China, the two Koreas, the United States, Japan and Russia.
"We worked very hard for this, done consultations all over the place, so let's see if we can make some progress," Assistant Secretary of State Christopher Hill told reporters at Beijing airport when asked if he was hopeful.
"But I want to emphasise that the real success is when we complete the September '05 agreement. Not just when we start the '05 agreement, but when we finish it, so we're not going to finish that this week. We'll just maybe take a good first step."
In September 2005, North Korea agreed to roll back its nuclear programmes in exchange for diplomatic and economic rewards.
Efforts to convince North Korea to renounce nuclear arms have assumed new urgency since Pyongyang defied international warnings and carried out its first nuclear test in October, triggering U.N. sanctions.
The focus of the latest round starting on Thursday is likely to be on persuading North Korea to first shut down its Yongbyon nuclear plant, the source of fissile material for its nuclear weapons programme.
NORTH'S OWN DEMANDS
But the North has its own demands and they may again bog down negotiations as they did in December.
North Korea has said it will not contemplate scrapping its nuclear weapons until Washington lifts a banking crackdown prompted by accusations that Pyongyang ran money counterfeiting and other illicit business.
A new round of bilateral talks in Beijing in January between U.S. Treasury Department and North Korean officials seeking to resolve the dispute ended with no sign of a breakthrough.
Ralph Cossa, head of the Pacific Forum CSIS think tank in Hawaii, said that while Pyongyang had said it was committed to the goal of nuclear disarmament, the latest six-party session would produce at most a small step forward.
"While it is reasonable to expect some general reaffirmation of this goal at the upcoming round of talks, substantial progress toward achieving it seems a long way off," he wrote in an emailed commentary.
Teng Jianqun, deputy secretary general of the China Arms Control and Disarmament Association think tank, said it was difficult to predict the result of this round of talks.
"Frankly speaking, I have changed my view from optimistic to pessimistic...
"After the financial sanctions by the United States on North Korea, the situation over the Korean peninsula has become more challenging, especially after the nuclear test last October by North Korea.
"I am just wondering whether the parties concerned, especially the U.S. and North Korea, would like to solve the dispute in the short-term. The answer might be not."