Early autumn scenery at Baishi Mountain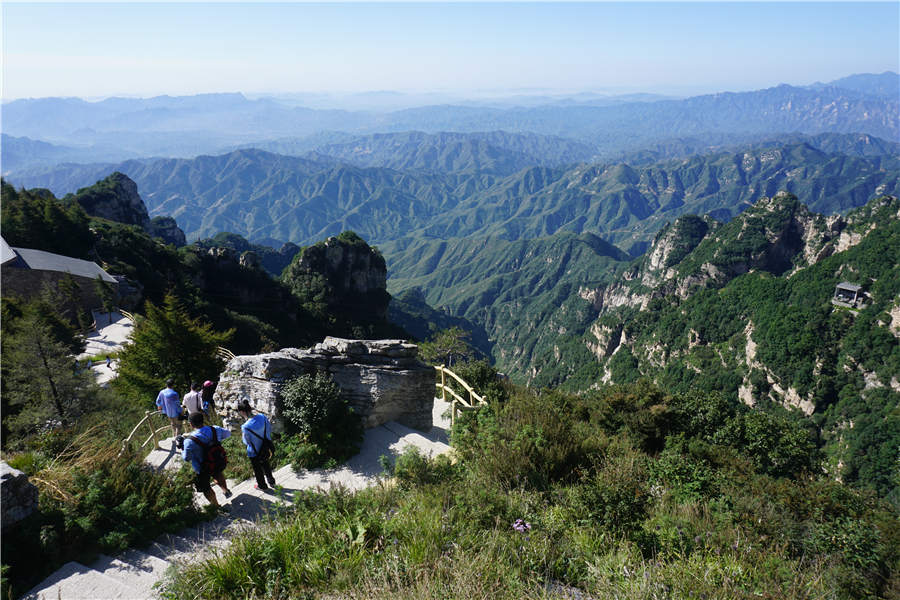 Tourists visit the Baishi Mountain in Laiyuan county, Baoding city, Hebei province, on Sept 6. [Photo by Bi Nan/chinadaily.com.cn]
The Baishi Mountain, which stands for the Whitestone Mountain, is named due to numerous white marbles, and the Baishi Mountain Geological National Park, located in Baoding, North China's Hebei province, is about 200 kilometers southwest of Beijing. As a national 5A-level scenic spot, the mountain is renowned for its sea of nearby clouds on overcast days, turning the area into a fairyland.
The scenic area has also become well-known for its glass skywalks. The spot built in September 2014 features the longest, widest and highest glass skywalk nationwide, standing at an altitude of 1,900 meters. In August 2015, the scenic area opened another glass skywalk, standing at an altitude of 1,600 meters, which was also the first double-deck glass bridge in China.
The scenic spot strives to forge a fusion of nature and culture, and had tried to build and maintain the reputation as a "love mountain". Tourists can see a range of landscapes related to love, as love proverbs – such as "Though I am a person fear of height, I am willing to experience heartbeat on the glass skywalk with you" – are printed on the footpaths. Some scenic spots, like a lover's bridge, are also designed to coincident with the theme of love.