Ancient villages join hallowed ranks of China's most beautiful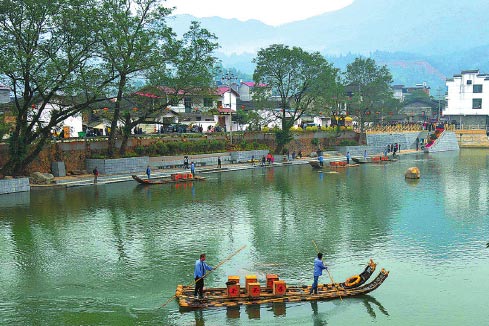 Xiamei village nearby Wuyi Mountain is a popular tourist destination for its well-preserved ancient buildings and folk customs. [Photo by You Qinghui/China Daily]
In answer to his ceaseless efforts, the bamboo forest has grown back.
"I never thought of leaving the village-it is where my roots are," Chen said.
Another village on the list is Jixia village in Pingnan county. The village features the traditional architectural style, unique to eastern Fujian province, and has preserved a number of traditional agricultural buildings, such as a water mill and ancient temples, bridges and shrines.
Endowed with thousands of years of history, the village is now applying the Internet Plus strategy to local tourism-to boost local villagers' income and to promote its popularity.
Lin Zhenglu, an artist from Fujian, came to Jixia two years ago. Attracted by the beautiful landscape and the folk culture, he made up his mind to stay and teach local farmers and children to draw for free.
As a result, a number of local painting studios have sprung up in the village, and locals have learned how to promote and sell their artwork online.
Nowadays, people interested in taking in the special artistic atmosphere of the village go there to learn from its pace of life, in what has become a unique attraction for local tourism.
"At the end of this year, more villagers will become painters in the folk art studios and galleries being built," Lin said.
"I also expect more than 50 artists from home and abroad will come here and set up their studios.
"It will boost the local hotels and hostels, cafes and culinary businesses," he said.
"Art is bringing about promising changes to the village."