Cultural heritage central to regional identity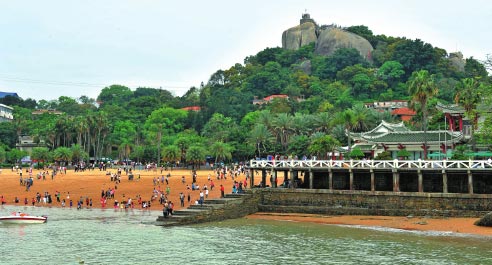 Xiamen, a coastal city in Fujian province, is a popular tourist destination. [Photo by You Qinghui/China Daily]
Fujian province in East China is famed as an intangible cultural heritage hub for its profound and rich multiculturalism, as well as its close connections with Taiwan.
A total of 33,251 immovable cultural relics are registered in Fujian, ranking the province the 10th-largest in China. The relics include three world cultural heritage sites: Wuyi Mountain; Fujian Tulou known as Hakka earth buildings; and Gulangyu Island.
Gulangyu Island joined UNESCO's world cultural heritage list at the 41st United Nations World Heritage Committee meeting on July 8, as China's 36th world cultural heritage site.
The Ancient Quanzhou Citong Relics site plans to apply for UNESCO World Heritage recognition in 2018. The Maritime Silk Road, Three Lanes and Seven Alleys, Timber Arch Lounge Bridge and Red-brick Facades are already on UNESCO's tentative Intangible Cultural Heritage list.
The Longevity Rock Cultural Ruins in Sanming and the Wuyi Mountain Chengcun villages are on the National Archaeological Site Parks list.