Millions hit road to enjoy holiday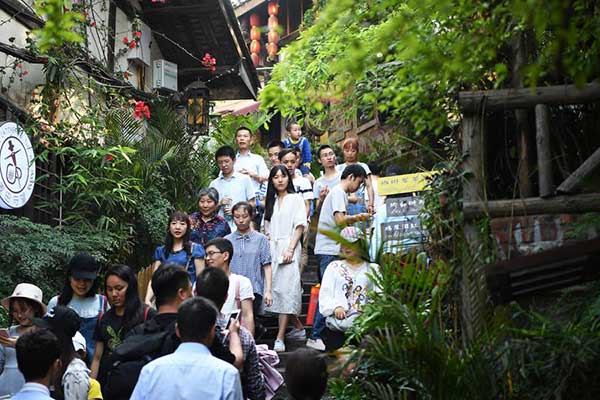 More than 130 million trips were made during this year's May Day holiday.[Photo/Xinhua]
More than 130 million trips were made during the May Day holiday, which ended on Monday, the China National Tourism Administration said.
An estimated 50 million of those were railway trips, which would represent a 10 percent increase from the same period last year, China Railway Corp said.
Stations in Beijing, Shanghai, Guangzhou, Wuhan, Shenzhen, Hangzhou, Nanjing, Chengdu and Zhengzhou were among the most crowded this year, based on ticket sales, the company said, adding that the travel peak appeared on Saturday, when 13.7 million trips were made.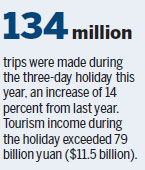 The administration said 134 million trips were made during the three-day holiday, an increase of 14 percent from last year. Tourism income during the holiday exceeded 79 billion yuan ($11.5 billion), up 16 percent from last year.
It said road trips - particularly short-distance ones to suburbs and the countryside for events and activities such as admiring flowers and picking fresh fruit and vegetables - were tourist favorites during the holiday.
Statistics from lvmama.com, a tourism company, showed that the number of tourists booking short-distance trips on its platform during the break doubled those of last year, with tourists spending an average 1,200 yuan.
Most of the orders came from residents of cities such as Shanghai, Beijing, Hangzhou, Guangzhou and Shenzhen. Cities with beautiful spring scenery in East China, including Suzhou, Wuxi and Ningbo, were among the most popular destinations for short trips.
Travel agencies also found that parent-child trips gained popularity during the break. Ctrip, a leading online travel agency, said 4 percent of its orders during the holiday were made by adults who took children with them, a 69 percent year-on-year increase. Lvmama.com said half of its short trips were ordered by families with children.