Building Hainan into a high-end tourist haven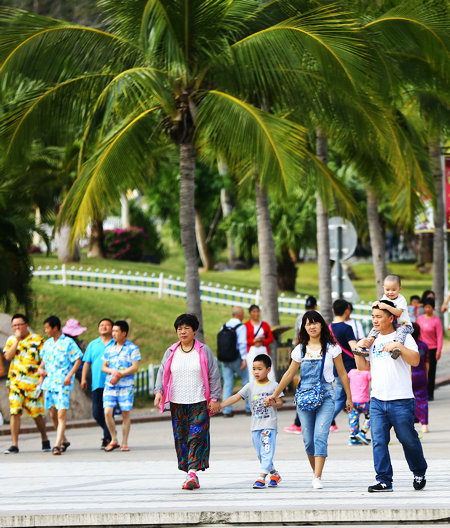 Tourists flock to Hainan in search of sunshine, white beaches and clean air.[Photo by Chen Wenwu/provided to China Daily] 
A world-class tourism destination is taking shape on the island province of Hainan, catering to those in search of culture, countryside, shopping or medical treatment.
That is the vision of the province's 13th Five-Year Plan (2016-20) for Tourism, which looks to build on the area's natural assets and develop it as a high-end tourist destination.
"Hainan has all the basic elements an international traveler would love to see: warm sunshine, gorgeous sea views, soft beaches, beautiful greenery and clean air," said Jason Shield, an Italian tourist with extensive travel experience.
"It is a paradise for vacationers with which I would say only Bali in Indonesia, the Australian Gold Coast and the Maldives can compare."
In line with the island's development plan, more international cooperation will be sought to train talent for tourism cultivation and management, according to officials with the Hainan provincial tourism bureau.
The tourism infrastructure is also being upgraded and new tourism products are being developed to meet the demands of high-end visitors.
In Sanya, a tourist hot spot, and Haikou, the provincial capital, large duty-free shops and online purchasing channels have been established, providing imported luxuries and numerous branded goods.
The central government has revised its duty-free policy for the island four times since it was introduced in 2010, expanding it to benefit more visitors with more competitive prices and a better experience. Air passengers used to be the only travelers allowed to buy duty-free goods, limited to a maximum of 16,000 yuan ($2,300) per year, but starting on Jan 15, visitors who leave the island by train are also eligible to buy duty-free.
In the latter half of last year, even more shopping options became available when four supersized shopping centers opened in Haikou.
The shopping center, injoy, which features more than 100 fashion, sports, food and entertainment outlets, attracted 700,000 customers in the first three days after it opened in late October. In December, a further three giant shopping malls developed by the HNA Group, Dalian Wanda Group and China Grand Enterprises Group opened in prime locations in Haikou, all aiming to serve as commercial hubs.