Witnessing the Buddha's unveiling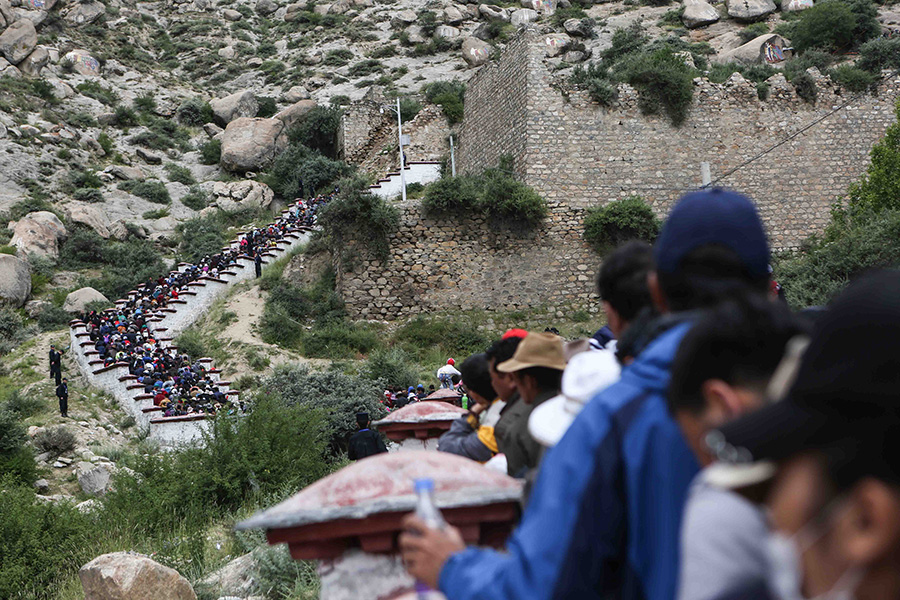 [Photo/VCG]
The Buddha revealed
Apparently unperturbed by the chaotic scenes that surrounded them, or simply preoccupied with their own duties, the uppermost lamas began to throw balls of rope down from the top of the slope. As each fell, it quickly unraveled, with the ends being snatched up by waiting hands at the bottom. Some lengths of rope stopped midway and had to be encouraged in their descent by a forest of arms that emerged from the middle of the plastic sheet, shaking at it furiously.
I couldn't see what happened next exactly, but it seemed that the ropes were being attached to the portrait of the Buddha-the giant roll I'd seen being carried aloft before.
Suddenly, the lamas at the top of the slope began heaving on the ropes and before I knew what was happening people started to scream in ecstasy. The portrait of Buddha was being revealed right in front of my eyes!
First came a giant piece of yellow cloth, covered in scripture. Next, as the lamas at the top of the slope continued to pull on the ropes, what appeared to me to be the lower half of the Buddha came into view. It was at this point that the portrait stopped moving upward, and the yellow cloth was gradually lifted up to reveal the Buddha's upper half.
And there he was-Shakyamuni Buddha-sitting cross-legged and gazing into the distance. It was only later that I realized the second roll of material I had seen being carried up the hill was in fact the yellow cloth covered in scripture. This made sense, as Tibetan Buddhists believe that all statues and portraits of the Buddha must be accompanied by holy text.
It had only taken a matter of minutes for the portrait to be unveiled, yet we had waited for it for four hours. As a non-Buddhist, I started to question whether the wait had been worth it, but I thought to myself that it was certainly humbling to be a part of the largest Tibetan festival on Earth.