Witnessing the Buddha's unveiling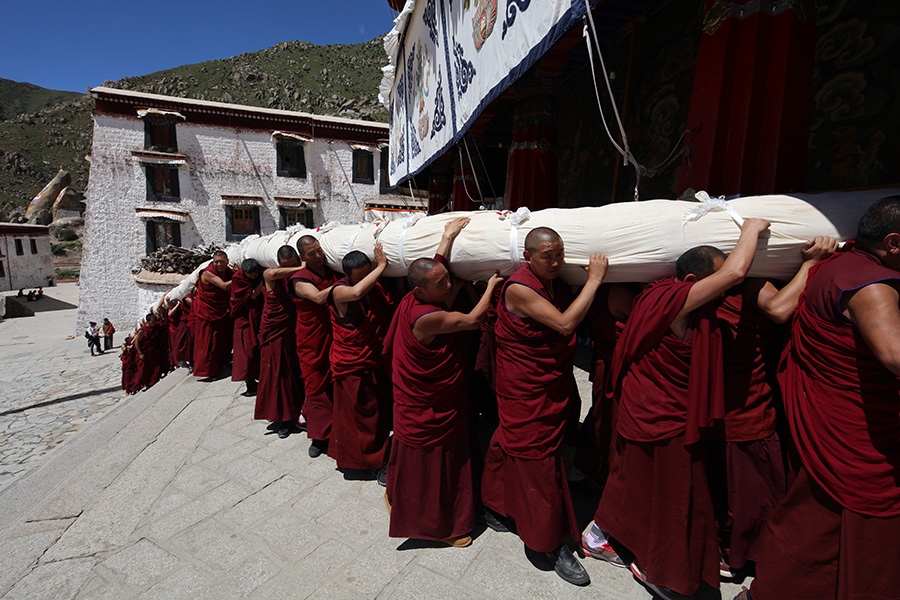 Lamas carry a roll-the giant portrait-on their shoulders as they walk up the hillside behind the monastery. [Photo/VCG]
A long, cold wait
The road, if you could call it that, had suddenly become steep and slippery. We moved at a snail's pace toward the large open slope where the image of Buddha would be revealed. It was entirely covered by what appeared to be a giant plastic sheet.
There was already a throng of bystanders up there, perched atop any vantage point they could reach. It seemed every patch of open ground had been claimed by someone already, but I was sure there would be space for one more person, or even two. After the early start and rainy trek, we were determined to settle for nothing less than an unimpeded view of the action.
After the initial excitement, the waiting began. It was already 4 am, but the rain was still falling and we had to wait for it to stop.
A middle-aged lama, as Tibetan Buddhist monks are called, was sat on a nearby rock casting thoughtful looks in our direction.
There were Tibetan women to either side of me, with their dark skin and braided hair. Despite all the waiting, they showed no signs of fatigue or impatience. Behind me, my traveling companion could hardly get a foothold on a sodden patch of rocky ground.
Two hours later and with no signs of the rain abating, a little stream began to form where I stood. The lama, despite that imperturbable look he wore, had already stood up, while from a bundle on one of the women's backs came the sound of muffled crying.
I was on the brink of tears myself: It was cold, I was hungry and had to endure the occasional "why-are-you-even-here" look from those around me.
Even without my friend nudging me from behind begging for us to go, I would have considered leaving-but for the fact that there was no way out. Looking down, the entire hillside was carpeted with people.
Just as I was about to give up hope, the rain eased off. It didn't stop completely until after the ceremony, but no one could wait any longer-even the lamas.