An icy path to pastures new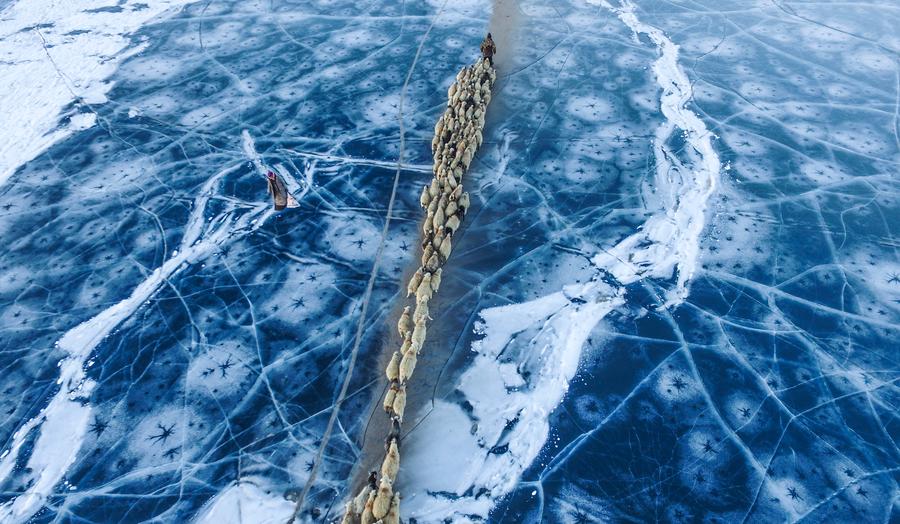 A villager leads a herd of sheep on the frozen Puma Yumco Lake, Southwest China's Tibet autonomous region, Feb 9, 2017.[Photo/Xinhua]
Before dawn breaks, Cering and his fellow herders lead their sheep to the lake to prepare for the crossing.
"I could not sleep well. There is too much work to do," he says.
Though the ice can reach a meter thick and is as hard as rock, anticipation hangs in the air, and the herders take every precaution to ensure a safe crossing.
"The older and better experienced men walk on the ice and mark a path they deem safe. Then women in our village carry stove ashes and spread them on the ice to make a safe path," he says.
As the sheep hit the frozen lake, the Tibetan herders become alert.
"We need to move the sheep fast. The earlier we set foot on land, the better," Cering says.
Hundreds of sheep move forward, one after another, and the icy surface squeaks under the enormous weight of the animals.
Plateau sheep weigh many kilograms and are valuable, selling for at least 100 dollars each; the herders are careful to protect their fortune.