New 'eyes'on pandas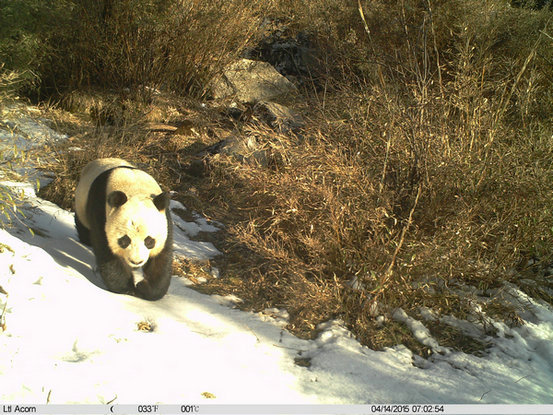 Infrared cameras capture images of a wild giant panda in nature reserves in China. [Photo provided to China Daily]
Yele Nature Reserve is a playground for wild giant pandas and other endangered animal species such as leopards.
Rangers in Liangshan Yi autonomous prefecture, Sichuan province, have to ride motorcycles or horses when they patrol the deep forests of the mountainous area, but now they can monitor the wildlife habitat via high-definition wireless surveillance cameras.
They recently installed seven such cameras at exits and entrances of the nature reserve. Rangers can control the cameras from their office computers and even from their mobile phones, as they watch real-time videos transmitted through the network.
It's part of the Giant Panda Habitat Monitoring and Restoration Demonstration Program in Sichuan province, launched jointly by computer-hardware maker Seagate Technology, video-surveillance products supplier Hikvision and the World Wildlife Fund.
According to the State Forestry Administration of China, as of the end of 2013, the population of wild giant pandas in China was 1,864, 74.4 percent of which lived in Sichuan.