Is graffiti zone on mountain a good idea?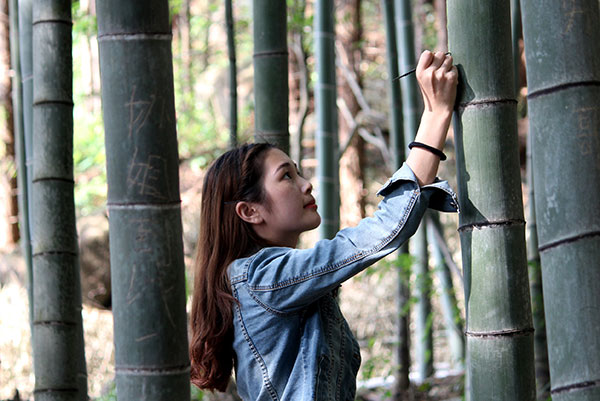 A visitor writes on a bamboo shoot in a public graffiti zone on Jinzi Mountain in Guangdong province.[Photo by Zeng Linghua/For China Daily]
A scenic area in Guangdong province has opened a zone for tourists to write or draw on bamboo shoots to prevent them from scribbling on historic relics or protected natural attractions.
The measure has aroused great controversy.
In the graffiti zone, a bamboo forest covering about 1.3 hectares on Jinzi Mountain, tourists have inscribed messages on nearly 200 of 3,000 or so shoots of bamboo since the zone was opened on Oct 1, the start of the weeklong National Day holiday, according to Zeng Linghua, general manager of the Jinzi Mountain resort.
The graffiti zone has stirred a heated discussion online, with many people criticizing the resort for playing on an inappropriate gesture by some tourists that has destroyed the environment and sabotaged historic relics in the past.
Zeng said he had anticipated that the special zone would cause controversy.
"The special zone is not meant to encourage tourists to scribble on trees," he said.
"But if some tourists have a strong desire to mark their trips by carving their names or messages somewhere, I think it may be a good idea to earmark a zone for them to fully express their feelings so that they won't do so in the rest of the scenic area."
"Rather than simply keep saying no, this may be a more effective way to prevent vandalism," he added.
Zeng said the type of bamboo was easy to grow and is not a protected species.