Building love in Lisbon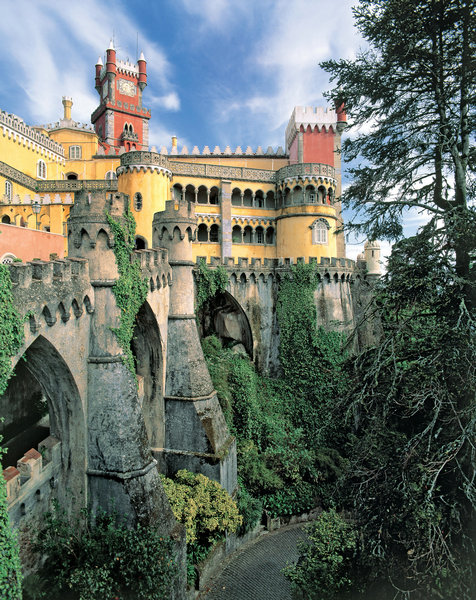 The Pena National Palace mixes styles of the neo-gothic, neo-manueline, neo-Moorish and neo-Renaissance architecture[Photo/Courtesy of Tourism Portugal]
Amour and architecture infuse Portugal's capital with passion. Erik Nilsson explores the romanticism conjured by the cityscape that's in turn conjured by romanticism.
Lisbon is for lovers.
Of each other. And of cityscapes.
It truly is a romantic place-in every sense.
Its aesthetic appeals equally to cuddly couples and architecture aficionados.
Lonely Planet recommends it as the "perfect Valentine's date", in no small part because the legacy of Europe's second-oldest capital is shaped by the antiquated structures that straddle cobblestone lanes, engendering a vintage vitality.
The edifices that conjure this charm hike up the hills that hug the Tagus River that tickles the city's south. The knolls are snarled with flagstone streets that unravel from their peaks.
But perhaps the most striking feature of Lisbon's landscape is that its edifices are sheathed with miles of tiles that radiate colorful geometric patterns flamboyant enough to make a peacock blush. These testify to the area's Moorish legacy, although are sometimes tweaked to portray images rather than just configurations of shapes, as realistic depictions were banned under the Islamic empire.
Indeed, the passion Portugal's capital constructs isn't limited to buildings designed during the period when the romantic movement was most adored in the country.
It's a polyamory of neo-gothic, neo-Moorish, neo-baroque, neo-classical, art-deco, art-nouveau and generically medieval structures. They bestride flagstone streets along which century-old trams rattle, adding percussion to the city's romantic soundtrack.
Melody is underwritten by melancholy fado, a haunting folk genre performed by caped musicians that floats through ancient alleyways, bouncing off buildings like the anthems of gloomy ghosts. They're actually ballads of love.
Another cheek-kiss for kissy-face romantics-this charming miscellanea of buildings breaks against an ocean shore like the waves that, in the other direction, explode into aerosol against coastline cliffs.
Marinas bob with boats and a connect-the-dots of lighthouses trace the coastline. Palm fronds greet visitors with waves animated by sea breezes. Pinball games of seafowl play out in sapphire skies, punctuated with pearly clouds that project flashing apparitions of themselves on the roiling ocean.
The Castle of the Moors indeed defends its position among Lisbon's most ancient and esoteric constructions.