Inbound tourism sees jump in Q1, reversing slump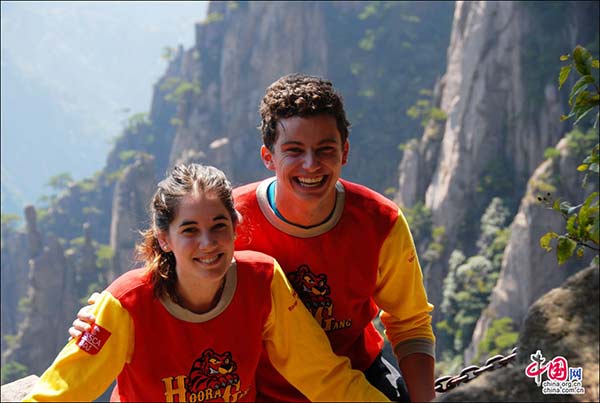 Two foreign tourists pose for a photo in Huangshan Mountain. [Photo/china.com.cn]
China's struggling inbound tourism industry showed strong growth in the first quarter, with more than 6.22 million visits to the mainland, a jump of 10.9 percent over the same period last year, according to a tourism report released on Monday.
Beijing still ranks first on the must-see list, with more than 54 percent of visitors saying they would definitely visit the capital, according to travel service Ctrip, which included statistics from the China National Tourism Administration in its report.
"South Korea is the largest source country. Japan was next," said Yan Xin, Ctrip's publicity manager.
The report also found that, Beijing, Shanghai and Xi'an, Shaanxi province, still attract the most attention from visitors. More than 14 percent said they would visit Shanghai and 9.2 percent of them would visit Xi'an, which has the famed Terracotta Warriors.
Other popular tourism destinations include Chengdu in Sichuan province, Guilin in the Guangxi Zhuang autonomous region and Lijiang, Yunnan province.
The China National Tourism Administration expects more than 137 million overseas tourists to visit China in 2016, an increase of 2.5 percent over the previous year. International tourism revenue is forecast to increase by 6.5 percent, reaching $121 billion.
That would be the second consecutive year of growth for China's inbound tourism market following a period of decline from 2011 to 2014.
Yan said the Belt and Road Initiative will bring many opportunities for China's tourism sector, as well as for travel services like Ctrip.
Zhang Lingyun, dean of the College of Tourism at Beijing Union University, agreed.
"Generally speaking, inbound tourists to China come from Japan, South Korea, the United States and a few other places," Zhang said. "If we combined several fragmented source countries, we could make a huge difference."
"Russia, Mongolia and Kazakhstan could exceed 13 percent of the inbound tourism market," he added.
Top 10 spots for overseas visitors
1.Great Wall, Beijing
2.Summer Palace, Beijing
3.Palace Museum, or the Forbidden City, Beijing
4.Terracotta Warriors of the Qin Dynasty, Xi'an, Shaanxi province
5.Emperor Qinshihuang's Mausoleum Site Museum, Xi'an, Shaanxi province
6.River tour of Lijiang, Guilin, Guangxi Zhuang autonomous region
7.West Street in Yangshuo, Guilin, Guangxi Zhuang autonomous region
8.TheBund, Shanghai
9.Night river tour, Shanghai
10.Huangshan Mountain, Anhui province
Source: Ctrip